Dogen's Extensive Record: A Translation of the Eihei Koroku (Paperback)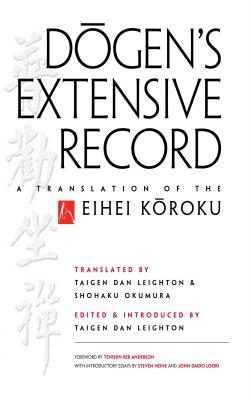 $26.95
Special Order—Subject to Availability
Description
---
Eihei Dogen, the thirteenth-century Zen master who founded the Japanese Soto School of Zen, is renowned as one of the world's most remarkable religious thinkers. As Shakespeare does with English, Dogen utterly transforms the language of Zen, using it in novel and extraordinarily beautiful ways to point to everything important in the religious life.

He is known for two major works. The first work, the massive Shobogenzo (Treasury of the True Dharma Eye), represents his early teachings and exists in myriad English translations; the second work, the Eihei Koroku, is a collection of all his later teachings, including short formal discourses to the monks training at his temple, longer informal talks, and koans with his commentaries, as well as short appreciatory verses on various topics. The Shobogenzo has received enormous attention in Western Zen and Western Zen literature, and with the publication of this watershed volume, the Eihei Koroku will surely rise to commensurate stature.

Dogen's Extensive Record is the first-ever complete and scholarly translation of this monumental work into English and this edition is the first time it has been available in paperback. This edition contains extensive and detailed research and annotation by scholars, translators and Zen teachers Taigen Dan Leighton and Shohaku Okumura, as well as forewords by the eighteenth-century poet-monk Ryokan and Tenshin Reb Anderson, former abbot of the San Francisco Zen Center - plus introductory essays from Dogen scholar Steven Heine, and the prominent, late American Zen master John Daido Loori.
About the Author
---
Shohaku Okumura is a Soto Zen priest and Dharma successor of Kosho Uchiyama Roshi. He is a graduate of Komazawa University and has practiced in Japan at Antaiji, Zuioji, and the Kyoto Soto Zen Center, and in Massachusetts at the Pioneer Valley Zendo. He is the former director of the Soto Zen Buddhism International Center in San Francisco. His previously published books of translation include Shobogenzo Zuimonki, Dogen Zen, Zen Teachings of Homeless Kodo, and Opening the Hand of Thought. Okumura is also editor of Dogen Zen and Its Relevance for Our Time and SotoZen. He is the founding teacher of the Sanshin Zen Community, based in Bloomington, Indiana, where he lives with his family.

Reb Anderson Roshi moved to San Francisco in 1967 to study Zen Buddhism with Shunryu Suzuki Roshi, who ordained him as a priest in 1970. Since then, he has continued to practice at the San Francisco Zen Center, where he served as abbot from 1986 to 1995 and is now a senior dharma teacher. Anderson Roshi lectures and leads retreats around the world, and is the author of Warm Smiles from Cold Mountains and Being Upright. He lives with his family and friends at Green Dragon Temple, Green Gulch Farm, near Muir Beach, in Northern California.

John Daido Loori was, until his death in 2009, the spiritual leader and abbot of Zen Mountain Monastery in Mt. Tremper, New York. Trained in koan Zen as well as in the subtle school of Master Dogen's Zen, he was the Dharma heir of Hakuyu Taizan Maezumi Roshi. Devoted to maintaining authentic Zen training, he developed a distinctive style, called the Eight Gates of Zen, based on the noble eightfold path. Drawing on his background as scientist, artist, naturalist, and Zen priest, Abbot Loori was an American master who spoke directly to students from the perspective of a common background. His books include Mountain Record of Zen Talks and The Heart of Being.

Steven Heine is an authority on Japanese religion and society, especially the history of Zen Buddhism and the life and works of Dogen. He has published two dozen books, including Did Dogen Go to China? and Zen Skin, Zen Marrow.
Praise For…
---
"This is a gem of a book that succeeds in conveying the warmth and compassion of one of Buddhism's great towering figures."
— The Middle Way: Journal of the Buddhist Society

"Leighton and Okumura have rendered Dogen's dense and idiosyncratic language in clear, lively, and engaging English. This is no small accomplishment. All readers will benefit greatly from this outstanding contribution to the study of Dogen and Zen Buddhism."
— Philosophy East & West

"This massive work will be a valuable asset not just for students of the Zen teacher Dogen (1200-1253), but for all students of Zen and Buddhism in general. In short, Leighton and Okumura's translation of Dogen's Extensive Record is a valuable contribution to the growing body of Zen literature available in English. It allows Western readers to discover a new side of Dogen, the side he presented to his own students on a daily basis. It will reward careful study."
— William M. Bodiford, in Buddhadharma: The Practitioner's Quarterly

"The many hours of dedicated work [that produced the book] will be much appreciated by all of us now and in the future who value Dogen's inspired writing and talks."
— Mel Weitsman, abbot of Berkeley Zen Center

"This is a significant time in terms of understanding Dogen in the West, [with] Taigen Dan Leighton and Shohaku Okumura's translation of the Eihei Koroku coming out. People are going to see an entirely different style in this collection of Dogen's later teachings."
— Steven Heine, Director, Institute of Asian Studies; co-author of Buddhism in the Modern World, in the forum-style article, "Understanding Dogen," in Buddhadharma

"This new and hefty volume represents the [previously unseen] other half of Dogen's teaching. We owe a great debt to Taigen Dan Leighton and Shohaku Okumura for this monumental translation, a labor of love and a generous offering to those who choose to wander beyond the beaten path."
— Inquiring Mind