The Gateless Barrier: The Wu-Men Kuan (Mumonkan) (Paperback)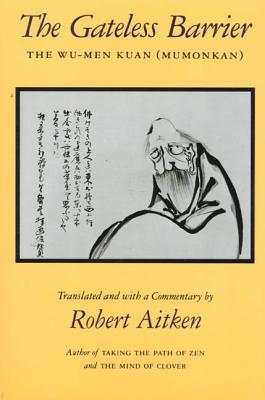 $29.00
Not On Our Shelves—Ships in 1-5 Days
(This book cannot be returned.)
Description
---
The Gateless Barrier is generally acknowledged to be the fundamental koan collection in the literature of Zen. Gathered together by Wu-men (Mumon), a thirteenth-century master of the Lin-chi (Rinzai) school, it is composed of forty-eight koans, or cases, each accompanied by a brief comment and poem by Wu-men.
Robert Aitken, one of the premier American Zen masters, has translated Wu-men's text, supplementing the original with his own commentary -- the first such commentary by a Western master -- making the profound truths of Zen Buddhism accessible to serious contemporary students and relevant to current social concerns.
About the Author
---
Robert Aitken (1917-2010) was Roshi of the Diamond Sangha in Honolulu and the author of Taking the Path of Zen and The Mind of Clover. His introduction to Zen came in a Japanese prison camp during World War II, after he was captured as a civilian in Guam. R. H. Blyth, author of Zen in English Literature, was imprisoned in the same camp, and in this unlikely setting Aitken began the first of several important apprenticeships. After the war Aitken returned often to Japan to study. He became friends with D. T. Suzuki, and studied with Nagakawa Soen Roshi and Yasutani Hakuun Roshi. In 1959 Robert Aitken and his wife, Anne, established a Zen organization, the Diamond Sangha. Aitken was given the title "Roshi" and authorized to teach by Yamada Koun Roshi in 1974.
Praise For…
---
"Aitken Roshi poses these koans in a manner accessible to Westerners through his depiction of his personal struggles with them (as a student) and his approach to them as a teacher. His commentary allows the transformative power of this traditional koan collection to come alive for modern students." —Joko Beck, author of Everyday Zen
"[Aiken] has cultivated the moon of Zen for over half a century. I trust the rich and juicy harvest . The Gateless Barrier will be the door to open the Treasure House which has neither inside nor outside." —Hakuyu Taizan Maezumi, Abbot, Zen Center of Los Angeles