Latinas: Struggles & Protests in 21st Century USA (Paperback)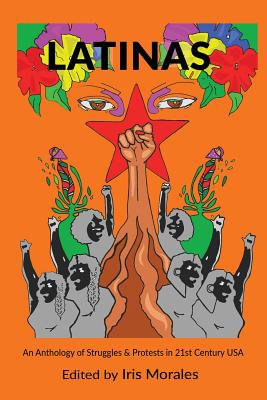 $20.00
Not On Our Shelves—Ships in 1-5 Days
(This book cannot be returned.)
Description
---
Latinas: Struggles & Protests in 21st Century USA is a timely collection of poetry and prose reflecting on women's lived experiences and the ways that Latinas address the relationship between gender and social change. Edited by longtime activist, Iris Morales, the authors are poets and activists, educators, artists, and journalists engaged in a variety of work from community organizing to university teaching. The selections illustrate how Latinas understand and resist the gendered conditions of their lives. They expose inequities that Latinas face as women but also by class; race, ethnicity, and national origin; immigration status; social location; and the legacy of history. The volume most closely aligns with the view of feminism as a movement to end sexist oppression, both its institutional and individual manifestations.
The anthology includes a mix of genres: poems, personal narratives, letters, scholarly essays, news articles, excerpts from plays, mission statements, lyrics, and herstories looking across time, generational, and geographic boundaries. Each piece is unique. Together they open a window that reveals a range of Latina perspectives on important contemporary socio-economic-political and cultural concerns, and imaginings for a more humane world.
"This anthology is especially urgent in a moment marked by the "silence breakers" . . . and the simultaneous silencing of women of color within these narratives. Latinas, in particular, have much to teach us as we face escalated attacks on Latinx immigrants, the U.S.-fueled crisis in Puerto Rico, and the misogyny that guides legislation against health care...." Dr. Deborah Paredez, Co-Director and Co-Founder of CantoMundo, Associate Professor of Professional Practice in the Writing Program at Columbia University, and author of This Side of Skin and Selenidad: Selena, Latinos, and the Performance of Memory.
The volume is compiled and edited by Iris Morales, an educator, attorney, and writer. She is the author of Through the Eyes of Rebel Women: the Young Lords, 1969 through 1976, the first book about the experiences of women in the organization. She is the producer, writer and co-director of the documentary, Palante, Siempre Palante , the Young Lords, which premiered on national public television in 1996 and continues to be screened in classrooms and community venues across the United States and Puerto Rico. Morales is a graduate of New York University School of Law and holds an MFA in Integrated Media Arts.
The anthology's contributors include a distinguished list of authors: Amanda Alcantara, Gloria Amescua, Nia Andino, Tania Asili, Natasha Lycia Ora Bannan, Rosebud Ben-Oni, Ariana Brown, Rosa Clemente, Karla Cordero, Johanna Fern ndez, Maria Teresa "Mariposa" Fern ndez, Marisa Franco, Katherine Garcia, Claudia Sofia Garriga L pez, Magdalena G mez, Jessica Gonz lez-Rojas, Ysabel Y. Gonz lez, Nancy Lorenza Green, Elena Gut errez, Jennicet Gut errez, Leticia Hern ndez-Linares, Karen Jaime, Aurora Levins Morales, Iris Morales, Stephanie Llanes, Jennifer Maritza McCauley, Florencia Milito, Lenina Nadal, Myrna Nieves, Emily Perez, M nica Ram rez, Raquel Reichard, Carmen Rivera, Peggy Robles-Alvarado, Dominque Salas, Aida Salazar, Ruth Irup Sanabria, Norma Liliana Valdez, Liliana Valenzuela, Vickie V rtiz, and Anjela Villarreal Ratliff.