The Steele Dossier: What the Mainstream Media Won't Tell Us... (Paperback)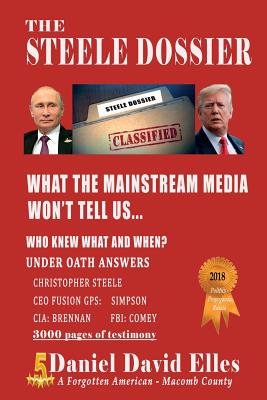 $9.99

Special Order—Subject to Availability
Description
---
"TRUMP'S TEAM USING MOLES WITHIN THE DNC"
That's a quote from the actual Steele Dossier - included in this book - written by 2018 Best New Author Finalist Daniel David Elles. In 2010, he was ballot for the Michigan House of Representatives as an Independent in Macomb County - Home of the Reagan Democrats.
He states: Perhaps we are "fly-over country", but we make up a significant voting percentage of our Great Nation.
In February, he wrote about Simpson stating that the FBI had an source in the Trump Campaign. Three months later it hit the news networks. What other facts are the mainstream media failing to tell us?
NO BIAS. NO BULL.
Who's the mole? Who's the FBI insider in the Trump Campaign? Was Steele credible? Simpson says that he was opposed to Trump...but does he think there was collusion with the Russians? What about Bruce and Nellie Ohr?
The Steele Dossier puts YOU in the center of all the action. Moreover, by purposely not publishing news articles from The Right or The Left, it's INDEPENDENT.
Instead, The Steele Dossier incorporates under oath testimony with questions from Congress - Rep. Adam Schiff (D-CA) and Rep. Trey Gowdy (R-CA) and many more. It also includes Declarations contained in official court documents in America and "Across the Pond".
WHO KNEW WHAT AND WHEN?
YOU get the facts, along with the allegations, straight from the source:
Fusion GPS Founder Glenn Simpson
CIA Director Brennan
FBI Director Comey
DOJ Bruce Ohr
FBI Peter Strzok
Former MI6 Crown Servant Christopher Steele (actual UK court records)
From Steele's sworn Statement of Truth in the Queen's High Bench Division to the conclusions made in Simpson's testimonies before the House and the Senate, YOU get everything in less than 120 pages.
How's that? Because Simpson's final hour of his Senate Examination is included in full. No edits. This untelevised examination was conducted by attorneys for Senator Grassley (R-IA) and Senator Feinstein (D-CA)...NOT POLITICIANS
NOW...it's time for America to decide AND for the world to see: What is real news? What is fake news?
Thank you and God Bless America
Daniel David Elles
INDEPENDENT