This Would Make a Good Story Someday (Hardcover)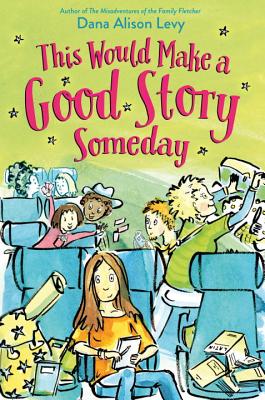 Description
---
From the author of The Misadventures of the Family Fletcher comes an epic cross-country train trip for fans of Dan Santat's Are We There Yet? and Geoff Rodkey's The Tapper Twins. Pack your suitcase and climb on board with the Johnston-Fischer family.  
 
Sara Johnston-Fischer loves her family, of course. But that doesn't mean she's thrilled when her summer plans are upended for a surprise cross-country train trip with her two moms, Mimi and Carol; her younger sister, Ladybug; her older sister, Laurel; and Laurel's poncho-wearing activist boyfriend, Root. And to make matters worse, one of her moms is writing a tell-all book about the trip . . . and that means allllll, every ridiculous and embarrassing moment of Sara's life.
 
Sara finds herself crisscrossing the country with a gaggle of wild Texans. As they travel from New Orleans to Chicago to the Grand Canyon and beyond, Sara finds herself changing along with the landscape outside the train windows. And she realizes that she just might go home reinvented. 

About the Author
---
Dana Alison Levy was raised by pirates but escaped at a young age and went on to earn a degree in aeronautics and puppetry. Actually, that's not true—she just likes to make things up. That's why she has always wanted to write books. Her books about the Family Fletcher have garnered starred reviews, been named to multiple Best Of lists, and were Junior Library Guild selections. Also, her kids like them. Dana was last seen romping with her family in Massachusetts. If you need to report her for excessive romping or if you want to know more, head to danaalisonlevy.com or follower her on Twitter at @danaalisonlevy.
 
Praise For…
---
"Sara has a truly unique tween voice, with her concerns about big-picture issues never diminishing the importance of her need for a new hair look or a burgeoning friendship with a fellow traveler…its engaging main character makes it a truly memorable read." —Booklist, starred review

"This story is never preachy; it ranges from laugh-out-loud funny to incredibly moving, and the voices are true. Ignore the title: this is a good story already." —Kirkus