Hogs Wild: Selected Reporting Pieces (Paperback)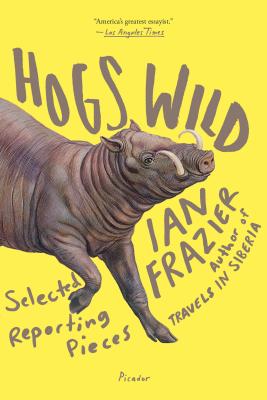 $17.00
Special Order—Subject to Availability
Description
---
PART MUCKRAKER, PART ADVENTURER, AND PART RACONTEUR, FRAZIER BEHOLDS, CAPTURES, AND OCCASIONALLY REIMAGINES THE SPIRIT OF THE AMERICAN EXPERIENCE. HOGS WILD OFFERS US AN UTTERLY UNIQUE BRAND OF INQUIRY WITHOUT AN AGENDA, CURIOSITY WITHOUT CALCULATION.

"A master of both distilled insight and utter nonsense" (The Believer), Ian Frazier is one of contemporary America's most gifted chroniclers. While travelling down south to examine feral hogs, he learns that their presence in a county is a strong indication it votes Republican. He introduces us to a man who, when his house is hit by a supposed meteorite, hopes to transform the errant object into an opportunity for his family, and follows a New York City detective fascinated with rap-music-related crimes. Alongside delighting in the absurdities of contemporary life, the collection further exposes our social reality: pieces on soup kitchens, opioid overdose deaths in Staten Island, and the rise of homelessness in New York City under Mayor Michael Bloomberg.
To read Frazier is to become a kind of social and political anthropologist—astute and deeply engaged—with humor never too far behind.
About the Author
---
Ian Frazier is the author of Travels in Siberia, Great Plains, On the Rez, Lamentations of the Father and Coyote V. Acme, among other works, all published by Farrar, Straus and Giroux. He graduated from Harvard University. A frequent contributor to The New Yorker, he lives in Montclair, New Jersey.
Praise For…
---
"America's greatest essayist."—Los Angeles Times
"[Frazier] is a sophisticated, intense writer who—Twain-like—uses a deceptive style of naiveté and comic self-deprecation to carry serious perceptions."—The New York Review of Books
"A great writer."—Jamaica Kincaid
"[Ian Frazier] is like an archeologist of social sensibilities, paying rapt attention to dialect, landscapes, sounds, and political quirks, then displaying them in artfully simple sentences."—The New Yorker

"A writer of uncommon grace and subtlety."—Steve Johnson, Chicago Tribune