Smothered: A Novel (Hardcover)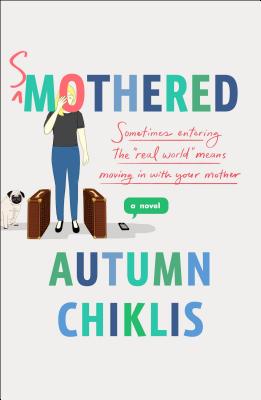 $28.99

Special Order—Subject to Availability
Description
---
**LA Times Bestseller**

"Autumn Chiklis's debut novel, Smothered, is a hilarious, gimlet-eyed, and affectionate take on the familial catastrophes that occur when a recent college grad moves back home with her helicopter mom. Whether you have a mother, are a mother, or know a mother, you will love and laugh 'til you cry reading this book."—Gigi Levangie Grazer, New York Times bestselling author of The Starter Wife and screenwriter of Stepmom
Eloise "Lou" Hansen is graduating from Columbia University summa cum laude, and she's ready to conquer the world. Just a few minor problems: she has no job, no prospects, and she's moving back into her childhood bedroom. Lou is grimly determined to stick to a rigorous schedule to get a job and get out of her parents' house. Shelly "Mama Shell" Hansen, on the other hand, is ecstatic, and just as determined to keep her at home. Who else will help her hide her latest binge-shopping purchases from her husband, go to SoulCycle with her, and hold her hand during Botox shots?
Smothered is a hilarious roman à clef told via journal entries, text messages, emails, bills, receipts, tweets, doctor's prescriptions, job applications and rejections, parking tickets, and pug pictures, chronicling the year that Lou moves back home after college. Told from Lou's point-of-view, Smothered tells the story of two young(ish) women, just trying to get it right, and learning that just because we all grow up doesn't mean we necessarily have to grow old. (After all, what is Juvaderm for?)
About the Author
---
AUTUMN CHIKLIS is a recent graduate of the University of Southern California, where she studied theater and screenwriting. She's an actor (The Shield), stand-up comedian, and contributor to The Huffington Post. She currently resides in Los Angeles, California, where she lives with her mother, father, and two pugs.
Praise For…
---
"The next great female writer and millennial Hollywood voice, Autumn Chiklis's glimpse into, and realization of, the mom and adult daughter dynamic of today is altogether entertaining, accurate, poignant, startling, educational, and INCREDIBLY hilarious. This is a must-read, enabling you to say you discovered her first!"
—Maria Menounos, New York Times bestselling author, actress and television host
"Autumn Chiklis's debut novel, Smothered, is a hilarious, gimlet-eyed, and affectionate take on the familial catastrophes that occur when a recent college grad moves back home with her helicopter mom. Whether you have a mother, are a mother, or know a mother, you will love and laugh 'til you cry reading this book."
—Gigi Levangie Grazer, New York Times bestselling author of The Starter Wife and screenwriter of Stepmom
"Hilarious [and] adorable, readers will be smiling from beginning to end. Mama Shell is a character who will stay with me for a long time! Author Autumn Chiklis uses an engaging combination of journal entries, Facebook and text message exchanges, and shopping receipts to create a fun and well-paced novel that will keep readers smiling from start to finish."
—Susan Mullen, coauthor of We Are Still Tornadoes

"In this whimsical confection from up and comer Autumn Chikilis, a boomerang kid who just graduated from Columbia makes the perilous decision to move back in with her loving pa and indefatigable ma. I wasn't sure which was more fun — the endlessly chipper directives from Mama Shell to daughter Lou on how to eat/sleep/exercise/live her best life, or figuring out which anecdote actually happened in Chiklis' real-life household — the one she shares with Vic Mackey, er, the Emmy-winning Michael Chiklis, and her fabulously chic mom, Michelle."
—Lynette Rice, Editor at Large for Entertainment Weekly
"Autumn Chiklis is a bright new voice in fiction, a hilarious and astute observer of all things fun and female. There isn't a mother or daughter on earth who won't fall in love with Autumn Chiklis and Smothered."
—Randi Mayem Singer, screenwriter of Mrs. Doubtfire
"Autumn Chiklis brilliantly captures the absurdity of truth in her first novel, Smothered. Treat yourself to a book that will have you crying with laughter as Autumn highlights the hilarious relationship between mother and daughter in a uniquely twenty-first-century way."
—Michelle MacLaren, director of Modern Family and The Nightingale and executive producer of Breaking Bad
"This hilarious debut, told in the appealing format of journal entries, text messages, emails, receipts, and more, will have readers laughing out loud at the situations and setbacks that find Lou...Perfect for recent grads,mother–daughter duos, and those looking for a fun read this summer. All the heart eye emojis!" — Booklist (Starred Review)
"Get ready to laugh out loud at a strained, comical mother-daughter duo with smart, inventive, and very modern storytelling devices." -- Town & Country
"If moving back in with your parents after college sounds like your worst nightmare, then you'll be able to relate to the heroine in Autumn Chiklis's Smothered. The novel follows Eloise "Lou" Hansen after she graduates from Columbia University summa cum laude without so much as an internship offer. Fortunately, her mother, Shelly, is over the moon to have her daughter back home. As the story plays out in diary entries, text messages, bills, receipts, tweets, job applications (and rejections), emails, and doctors' prescriptions, you get to know both women, who are just trying to get it right. " -- POPSUGAR