We're following all official guidelines to keep ourselves healthy on the job, and as a result, shipping may be delayed.
You will receive an email from our web orders team confirming that your order has been processed.
We thank you for your support and your patience at this challenging time.
Reckoning: The Epic Battle Against Sexual Abuse and Harassment (Hardcover)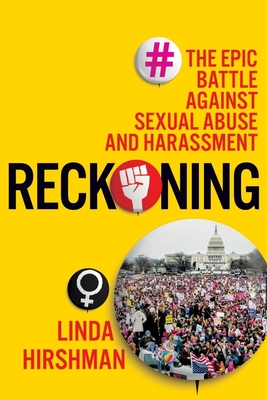 Description
---
The first history—incisive, witty, fascinating—of the fight against sexual harassment, from the author of the New York Times bestseller Sisters in Law
     Linda Hirshman, acclaimed historian of social movements, delivers the sweeping story of the struggle leading up to #MeToo and beyond: from the first tales of workplace harassment percolating to the surface in the 1970s, to the Clinton/Lewinsky scandal—when liberal women largely forgave Clinton, giving men a free pass for two decades. Many liberals even resisted the movement to end rape on campus.

      And yet, legal, political, and cultural efforts, often spearheaded by women of color, were quietly paving the way for the takedown of abusers and harassers. Reckoning delivers the stirring tale of a movement catching fire as pioneering women in the media exposed the Harvey Weinsteins of the world, women flooded the political landscape, and the walls of male privilege finally began to crack. This is revelatory, essential social history.
About the Author
---
LINDA HIRSHMAN is the author of the New York Times and Washington Post best-selling book Sisters in Law: How Sandra Day O'Connor and Ruth Bader Ginsburg Went to the Supreme Court and Changed the World. She is also the lawyer and political pundit who wrote the first history of the gay revolution since everything changed: Victory: The Triumphant Gay Revolution. She has written about social movements for a variety of publications, including the New York Times, the Washington Post, the New Republic, Slate.com, and The Daily Beast. She has appeared on NPR (all day August 31, 2015, at launch of Sisters in Law), Freakonomics Radio, 60 Minutes, Good Morning America, CBS News, CNN, MSNBC, and above all, on Comedy Central's The Colbert Report. She lives in Arizona and New York.
Praise For…
---
"Hirshman has written a lively account of a social revolution that's still in the making."—New York Times

"In thirteen strong chapters, which move chronologically from 1969 to 2018, Hirshman examines major U.S. events in great detail and with a storyteller's panache." —Bookforum

"Ambitious and provocative." —​The Jewish Forward

"Hirshman documents behind-the-scene details, political maneuverings, evidence that was presented or suppressed, truths that became apparent long after decisions went into effect, and how these developments affect current events. The unabated, continuing public outcry against sexual harassment is a reminder that resolution is long overdue."—Booklist, starred review 

"Inspiring… a tightly constructed narrative about how #MeToo became a cultural phenomenon will find it here, along with a celebration of the bold women who stood up for themselves to earn legal victories against harassment."—Publishers Weekly

"In Reckoning, Linda Hirshman delivers a stirring, essential history for women of all ages. Prepare to meet the most important—and in some cases the most unsung—feminist heroes of the past fifty years."—Alyssa Milano, actor and activist

"An important and fascinating history of the intersection of sex and power, in the workplace and beyond. Hirshman's new book reveals aspects of American feminist history many of us did not know, and provides important context around what we thought we did know. An inspiring, necessary, and perfectly timed work."—Anna Holmes, writer and creator,  Jezebel

"Reckoning is a gripping account of the most profound cultural, political, and legal transformation of the past fifty years. Pulling no punches and sparing no hypocrites, Linda Hirshman speaks to all of us, men and women alike, in a voice at once urgent and entertaining, about the eternal double helix of sex and power."—Laurence H. Tribe, Professor of Constitutional Law, Harvard Law School

"A brisk, authoritative, and timely history." —Kirkus Reviews