A Jury of Her Peers: Celebrating American Women Writers from Anne Bradstreet to Annie Proulx (Paperback)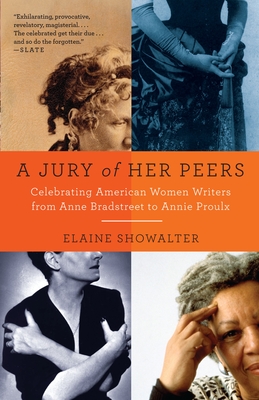 $18.00
Special Order—Subject to Availability
Description
---
An unprecedented literary landmark: the first comprehensive history of American women writers from 1650 to the present.
 
In a narrative of immense scope and fascination, here are more than 250 female writers, including the famous—Harriet Beecher Stowe, Dorothy Parker, Flannery O'Connor, and Toni Morrison, among others—and the little known, from the early American bestselling novelist Catherine Sedgwick to the Pulitzer Prize-winning playwright Susan Glaspell. Showalter integrates women's contributions into our nation's literary heritage with brilliance and flair, making the case for the unfairly overlooked and putting the overrated firmly in their place.
About the Author
---
Elaine Showalter, a professor emerita at Princeton University, is the author of numerous books, including the groundbreaking A Literature of Their Own: British Women Novelists from Brontë to Lessing. A frequent radio and TV commentator in the United Kingdom, she has chaired the Man Booker International prize jury and judged the National Book Awards and the Orange Prize. She divides her time between Washington, D.C., and London.
Praise For…
---
"Exhilarating, provocative, revelatory, magisterial . . . The celebrated get their due . . . and so do the forgotten."
—Slate

"A work of astonishing vision, breadth, intelligence, and audacity. . . . Sure to be required reading for all who have an interest in American literary history." 
—Joyce Carol Oates

"[A] grand new work of literary history . . . A critical standout . . . [Showalter] opines with zest on the personalities and books of the writers here . . . I do relish her critical gusto and guts . . . [She] has inspired me."
—Maureen Corrigan, Fresh Air, National Public Radio
 
"Remarkable. . . . A Jury of Her Peers does an enormous service, houses a drop-dead reading list and gives the reader a fluid framework for the great (much of it still undiscovered) wealth of writing by women in this country." 
— The Los Angeles Times

"Impressively researched. . . . Generous, thought-provoking. . . . [Showalter is] less polarized and more nuanced than other feminist critics of her generation . . . She is a lively and incisive guide, the perfect Virgil for our quest." —The Washington Post
 
"Enlightening . . . the book may be dipped into at any chapter with much reward . . . . Showalter captures so well, often in just a few paragraphs, the image of the women she writes about. . . . Reading A Jury of Her Peers is not only an education in literary history, it is eminently satisfactory intellectual nourishment. 4 out of 4 stars." —Free Press
 
"[A] vast democratic volume . . . . Vivid . . . extremely readable and enlightening . . . . Her short, incisive biographies offer a glimpse into the exotic travails of the past and the eternal concerns of female experience . . . [A] ranging, inclusive history . . . . likely to become an important and valuable resource for anyone interested in women's history." —The New York Times Book Review
 
"A delicious compendium, a book that belongs in literature courses, of course, but also in writerly libraries and in the hands of anyone who enjoys reading about writers' lives. . . . Essential." —Barnes & Noble Review
 
"Clear-sighted, ambitious . . . minutely researched and rich with opinion, anecdotes, samples, and interpretation. . . . Monumental." —Elle
 
"Absorbing. . . . excellent. . . . insightful. . . . the prose is so good that the 500-plus-page book also works as an absorbing cover-to-cover read. . . . Showalter does not try to force any of these writers into uncomfortable slots in any kind of artificial female pantheon. These writers are all individuals, and Showalter treats them as such." —The Christian Science Monitor
 
"Elaine Showalter has delivered the first literary history of American women ever published, and the result is a riveting journey with scarcely a becalmed page . . . rich, readable . . . an immensely valuable work . . . vibrant regardless of where one dips in." —The Seattle Times
 
"Accessible and readable.  Brimming with wit and insight . . . . This monumental book will greatly enrich our understanding of American literary history and our culture." —Tuscon Citizen, Recommended New Title
 
"Showalter may have written the perfect book-group book: Not only is it fascinating on its own, but it also opens up possibilities for decades of further reading. . . . Like a raucous party, with some squabbling going on in the darker corners. . . . Showalter's prose is lively, and she has no problem expressing her opinions" —The Columbus Dispatch
 
"A breathtaking overview of the intersections of gender and genre in American letters. . . . With its frank assessments, impressive research and expansive scope, A Jury of Her Peers belongs on the shelf of any reader interested in the development of women's writing in America." —Ms. Magazine