White Heat: The Friendship of Emily Dickinson and Thomas Wentworth Higginson (Hardcover)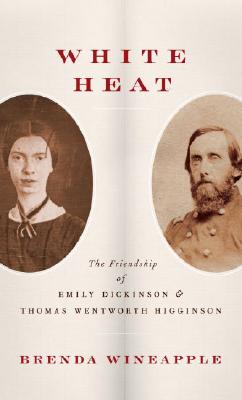 $27.95
Special Order—Subject to Availability
Description
---
The first book to portray one of the most remarkable friendships in American letters, that of Emily Dickinson—recluse, poet—and Thomas Wentworth Higginson, minister, literary figure, active abolitionist.

Their friendship began in 1862. The Civil War was raging. Dickinson was thirty-one; Higginson, thirty-eight. A former pastor at the Free Church of Worcester, Massachusetts, he wrote often for the cultural magazine of the day, The Atlantic Monthly—on gymnastics, women's rights, and slavery. His article "Letter to a Young Contributor" gave advice to readers who wanted to write for the magazine and offered tips on how to submit one's work ("use black ink, good pens, white paper").

Among the letters Higginson received in response was one scrawled in looping, difficult handwriting. Four poems were enclosed in a smaller envelope. He deciphered the scribble: "Are you too deeply occupied to say if my Verse is alive?"

Higginson read the poems. The writing was unique, uncategorizable. It was clear to him that this was "a wholly new and original poetic genius," and the memory of that moment stayed with him when he wrote about it thirty years later.

Emily Dickinson's question inaugurated one of the least likely correspondences in American letters—between a man who ran guns to Kansas, backed John Brown, and would soon command the first Union regiment of black soldiers, and the eremitic, elusive poet who cannily told him she did not cross her "Father's ground to any House or town."

For the next quarter century, until her death in 1886, Dickinson sent Higginson dazzling poems, almost one hundred of them—many of them her best. Their metrical forms were unusual, their punctuation unpredictable, their images elliptical, innovative, unsentimental. Poetry torn up by the roots, Higginson later said, that "gives the sudden transitions."

Dickinson was a genius of the faux-naïf variety, reclusive to be sure but more savvy than one might imagine, more self-conscious and sly, and certainly aware of her outsize talent. "Dare you see a Soul at the 'White Heat'?" she wondered. She dared, and he did.

In this shimmering, revelatory work, Brenda Wineapple re-creates the extraordinary, delicate friendship that led to the publication of Dickinson's poetry. And though she and Higginson met face-to-face only twice (he had never met anyone "who drained my nerve power so much," he said), their friendship reveals much about Dickinson, throwing light onto both the darkened door of the poet's imagination and a corner of the noisy century that she and Colonel Higginson shared.

White Heat is about poetry, politics, and love; it is, as well, a story of seclusion and engagement, isolation and activism—and the way they were related—in the roiling America of the nineteenth century.
About the Author
---
Brenda Wineapple is the author of "Genet: A Biography of Janet Flanner; Sister Brother: Gertrude and Leo Stein; "and "Hawthorne: A Life," winner of the Ambassador Award of the English-Speaking Union for Best Biography of 2003. Her essays and reviews appear in many publications, among them "The New York Times Book Review" and "The Nation." She has been the recipient of grants from the National Endowment for the Arts and the Guggenheim Foundation. She lives in New York City and teaches creative writing at Columbia University and The New School.
Praise For…
---
"Brenda Wineapple provides a nuanced and quite moving account of the improbable relationship between an 'activist' and a 'recluse.'"

–New York Sun

"[Wineapple] brings a scholar's diligence and a novelist's imagination to her account of Dickinson and Higginson's relationship, crafting a tour de force that should delight specialists and casual readers alike. The book's individual strands of inquiry–Higginson's life, Dickinson's poems, the letters that passed between them, and the historical, political and artistic contexts of the age–are interesting in and of themselves, but when intertwined so as to inform and strengthen each other, they're fascinating….Wineapple is a tremendously versatile and sensitive writer, and she elucidates her subjects' subtleties with authority and grace. She conjures up vivid scenes but never oversteps the historian's duty to fact, dispenses an enormous amount of documentary information without ever overburdening her narrative, and interprets Dickinson's often challenging poems with eloquence and lucidity. Not a biography, history or literary analysis, yet something of each, White Heat amply demonstrates that indirect illumination sometimes casts the brightest light."
–Joel Brouwer, The Washington Post

"Much more than a biography–rather, a sweeping cultural and political history of the lead-up to the American civil war and its aftermath…[Wineapple] has too much intellectual integrity to pretend to pin the poet down. Instead she achieves what the best literary biography should: a portrait which provides close-up moments of tangible intimacy while allowing the subject to remain ultimately mysterious."

–The Economist

"Brenda Wineapple's White Heat is one of the most astonishing books about poetry I have ever read. It causes us to see Emily Dickinson, perhaps for the first time, as an actual human being of a particular time and place, rather than as a timeless, ghostly and ethereal instrument of first-rank poetic genius–and she had red hair!  Wineapple clarifies our past misconceptions about Higginson, and captures how he wisely and cunningly sought to protect a sensitive and eccentric poet from the vicious idiocies of the literary world.  Beautifully written, illuminated by Wineapple's grasp of nineteenth-century American history, with its astonishing cast of literary, philosophical and military personalities, the book is irresistibly entertaining."

–Franz Wright

"Wineapple is an astute literary biographer with a feisty prose style and a relish for unsettling received ideas. Social history–the taproot of character–is her forte… White Heat is written with a dry heat that does justice to its impassioned protagonists."

–Judith Thurman, The New Yorker

"White Heat succeeds magnificently in shining a light into the work of two unlikely friends…a powerful insight into two extraordinary figures who where there, in a rather unusual way, for each other."

–Bookpage

"A nuanced and insightful study."

–Booklist, starred


"(A) brilliant study…she elegantly delves into a life and offers rich insights into a little-known relationship between two of the late-19th century's most intriguing writers."

–Publishers Weekly, starred


"A moving portrait of two unalike but kindred spirits who did indeed "Dare [to] see a Soul at the 'White Heat.'"

–Kirkus Reviews, starred

"White Heat is the story of a famous friendship in American Literature, but it is much more than that. Wineapple's decision to let Higginson's life carry the narrative, with Dickinson's work providing the light from within–the epiphanies–is a stroke of structural genius worthy of Dickinson herself. This brilliant and moving sortie is without question the best account of Emily Dickinson ever written. It is a great story, greatly told."

–Robert D. Richardson, author of Henry Thoreau: A Life of the Mind and Emerson: The Mind on Fire

"Brenda Wineapple, a superb literary critic, has a historian's soul.  In White Heat, she beautifully describes the quiet drama and elusive tempos of one of the most improbable and fateful authorial friendships in all of American writing. Few contemporary interpreters, if any, could have understood the story in all its richness as Wineapple has–and then related it with such grace as well as authority."

–Sean Wilentz, author of The Rise of American Democracy: Jefferson to Lincoln   

 "Sensitive and haunting evocation of an epistolary love affair between a famously reclusive poet and a handsome activist minister, told with all the power and passion of Emily Dickinson's art."

–Meryle Secrest

"For those of us who have all but memorized Dickinson's poems and for anyone who has yet to discover this irresistible American original, Brenda Wineapple's gorgeously composed portrait of an extraordinary friendship will be a revelation. Her research is impeccable, partly because she is wise about the nuances of love, and partly, and this is no small matter for a literary historian, because she writes like an eloquent angel. Always a brilliant story teller, she has somehow managed, this time, to outdo even her own previous outdoing."

-Joel Conarroe

"White Heat is biography at its very best. It brings these two to life more exactly, more sympathetically, more vividly than ever before. A triumph!"

–J.D. McClatchy, poet, editor of Yale Review

"Brenda Wineapple brilliantly excavates and tracks the surprising relationship between Emily Dickinson, the reclusive genius of American literature, and Wentworth Higginson, her unlikely Preceptor. The book tells an unknown story. It also further establishes Wineapple as one of our finest literary biographers."

– Edward Hirsch

"White Heat captures the most elusive of "elective affinities" in American letters. With matchless authority and knowledge, Wineapple restores, for the first time, the friendship between the reclusive genius and the bustling public man."

–Benita Eisler

"Toeing the circumferences of biography and literary criticism, Brenda Wineapple has done an admirable and eloquent job of unraveling this intriguing chapter in the Emily Dickinson story, but always with respect for the mystery of compatibility at its core. No book I know brings us deeper into the inner chambers of this poet's private life."

–Billy Collins, former poet laureate