The Emperor of All Maladies: A Biography of Cancer (MP3 CD)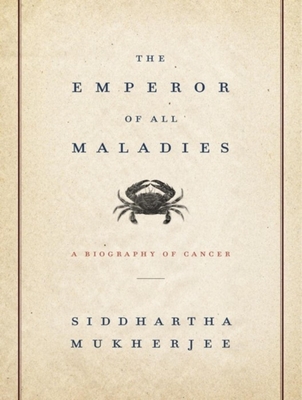 $34.99

Special Order—Subject to Availability
November 2010 Indie Next List
---
"The struggle against cancer eventually touches the lives of every person on this planet. In The Emperor of All Maladies, Siddharta Mukherjee displays remarkable skill in blending a definitive history of this disease with a compelling narrative. The book is informative, moving, and provocative, and teaches us a powerful lesson about humanity. We live in the face of inevitable uncertainty, but the knowledge in these pages makes us stronger and more compassionate beings."
— Geoffrey B. Jennings, Rainy Day Books, Fairway, KS
Summer 2012 Reading Group
---
"For anyone whose life has been touched by cancer -- probably all of us -- this is a fantastic introduction to not only what cancer is, but also its history, cultural significance, and the legacy of our battles to overcome it. Mukherjee's treatment of this epic subject is multifaceted and told with energy, eloquence, and a deep sense of the human stories behind the medicine."
— Mark LaFramboise, Politics & Prose Books and Coffee Shop, Washington, DC
Description
---
Written by cancer physician, researcher, and award-winning science writer Siddhartha Mukherjee, The Emperor of All Maladies is a stunning combination of medical history, cutting-edge science, and narrative journalism that transforms our understanding of cancer and much of the world around us. Mukherjee examines cancer with a cellular biologist's precision, a novelist's richness of detail, a historian's range, and a biographer's passion. The story of cancer is one of human ingenuity, resilience, and perseverance, but also of hubris, arrogance, paternalism, and misperception, all leveraged against a disease that, just decades ago, was thought to be easily vanquished in an all-out "war against cancer." It's a story of science and scientists, of centuries of discoveries, of setbacks and victories and deaths, told through the eyes of Mukherjee's predecessors and peers, training their wits against an infinitely resourceful adversary. From the Persian Queen Atossa, who instructed her Greek slave to cut off her malignant breast, to the radical surgeries of the nineteenth century, to the first recipients of primitive radiation and chemotherapy, to Mukherjee's own leukemia patient, Carla, The Emperor of All Maladies is a story of people-and their families-who soldier through toxic, bruising, and draining regimens to survive and to increase the store of human knowledge. Riveting and magisterial, The Emperor of All Maladies provides a fascinating glimpse into the future of cancer treatments and offers a bold new perspective on the way doctors, scientists, philosophers, and lay people have observed and understood the human body for millennia.
About the Author
---
Siddhartha Mukherjee is an assistant professor of medicine at Columbia University and a staff cancer physician at the CU/NYU Presbyterian Hospital. He has been published in such journals as the "New England Journal of Medicine," "Neuron," and the "Journal of Clinical Investigation."

Stephen Hoye has won more than a dozen "AudioFile" Earphones Awards and two prestigious APA Audie Awards, including one for "Rich Dad, Poor Dad" by Robert T. Kiyosaki. He has recorded many other notable titles, such as "Every Second Counts" by Lance Armstrong and "The Google Story" by David A. Vise and Mark Malseed.
Praise For…
---
"An inspiring account of a very personal battle against 'the plague of our generation.'" ---Kirkus