Ender in Exile (The Ender Saga #5) (CD-Audio)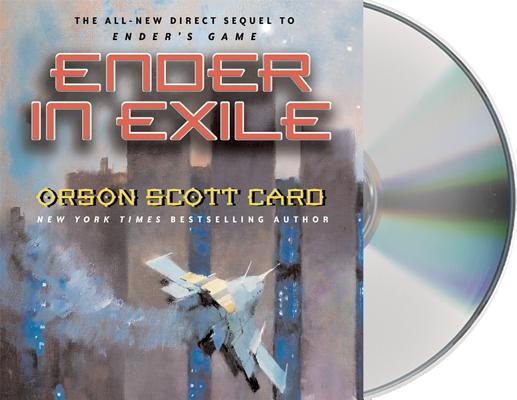 $57.99

Special Order—Subject to Availability
Description
---
Orson Scott Card returns to his best-selling series with a new Ender novel, Ender in Exile.

At the close of Ender's Game, Andrew Wiggin – called Ender by everyone – is told that he can no longer live on Earth, and he realizes that this is the truth. He has become far more than just a boy who won a game: he is the Savior of Earth, a hero, a military genius whose allegiance is sought by every nation of the newly shattered Earth Hegemony. He is offered the choice of living in isolation on Eros, at one of the Hegemony's training facilities, but instead the twelve-year-old chooses to leave his home world and begin the long relativistic journey out to the colonies. With him went his sister Valentine, and the core of the artificial intelligence that would become Jane.

The story of those years has never been told… until now.
About the Author
---
Stefan Rudnicki
is an award winning audiobook narrator, director and producer. He was born in Poland and now resides in Studio City, California. He has narrated more than three hundred audiobooks and has participated in over a thousand as a writer, producer, or director. He is a recipient of multiple Audie Awards and
AudioFile
Earphones Awards as well as a Grammy Award, a Bram Stoker Award, and a Ray Bradbury Award. He received
AudioFile
's award for 2008 Best Voice in Science Fiction and Fantasy. Along with a cast of other narrators, Rudnicki has read a number of Orson Scott Card's best-selling science fiction novels. He worked extensively with many other science fiction authors, including David Weber and Ben Bova. In reviewing the twentieth anniversary edition audiobook of Card's
Ender's Game
,
Publishers Weekly
stated, "Rudnicki, with his lulling, sonorous voice, does a fine job articulating Ender's inner struggle between the kind, peaceful boy he wants to be and the savage, violent actions he is frequently forced to take." Rudnicki is also a stage actor and director.
Orson Scott Card is best known for his science fiction novel Ender's Game and its many sequels that expand the Ender Universe into the far future and the near past. Those books are organized into the Ender Quintet, the five books that chronicle the life of Ender Wiggin; the Shadow Series, which follows on the novel Ender's Shadow and are set on Earth; and the Formic Wars series, written with co-author Aaron Johnston, which tells of the terrible first contact between humans and the alien "Buggers." Card has been a working writer since the 1970s. Beginning with dozens of plays and musical comedies produced in the 1960s and 70s, Card's first published fiction appeared in 1977--the short story "Gert Fram" in the July issue of The Ensign, and the novelette version of "Ender's Game" in the August issue of Analog. The novel-length version of Ender's Game, published in 1984 and continuously in print since then, became the basis of the 2013 film, starring Asa Butterfield, Harrison Ford, Ben Kingsley, Hailee Steinfeld, Viola Davis, and Abigail Breslin.

Card was born in Washington state, and grew up in California, Arizona, and Utah. He served a mission for the LDS Church in Brazil in the early 1970s. Besides his writing, he runs occasional writers' workshops and directs plays. He frequently teaches writing and literature courses at Southern Virginia University.

He is the author many science fiction and fantasy novels, including the American frontier fantasy series "The Tales of Alvin Maker" (beginning with Seventh Son), and stand-alone novels like Pastwatch and Hart's Hope. He has collaborated with his daughter Emily Card on a manga series, Laddertop. He has also written contemporary thrillers like Empire and historical novels like the monumental Saints and the religious novels Sarah and Rachel and Leah. Card's work also includes the Mithermages books (Lost Gate, Gate Thief), contemporary magical fantasy for readers both young and old.

Card lives in Greensboro, North Carolina, with his wife, Kristine Allen Card. He and Kristine are the parents of five children and several grandchildren.
Praise For…
---
"Cast members re-create characters and interact with each other smoothly, picking up threads from a number of books in the series. The dialogue moves quickly among them, and the production maintains a strong pace." —AudioFile

"Card's prose is powerful here, as is his consideration of mystical and quasi-religious themes. Though billed as the final Ender novel, this story leaves enough mysteries unexplored to justify another entry; and Card fans should find that possibility, like this novel, very welcome indeed. " —Publishers Weekly (starred review) on Children of the Mind

"Orson Scott Card made a strong case for being the best writer science fiction has to offer." —The Houston Post on Xenocide

"There aren't too many recent sf novels we can confidently call truly moral works, but Speaker for the Dead is one. It's a completely gripping story." —The Toronto Star

"This is Card at the height of his very considerable powers--a major SF novel by any reasonable standard." —Booklist on Ender's Game