The New York Young Lords and the Struggle for Liberation (Paperback)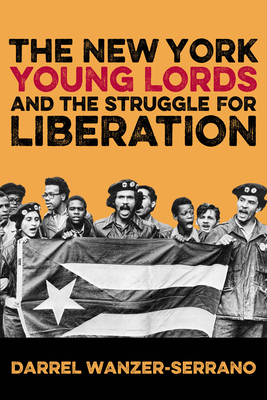 $30.95
Not On Our Shelves—Ships in 1-5 Days
Description
---
The Young Lords was a multi-ethnic, though primarily Nuyorican, liberation organization that formed in El Barrio (Spanish Harlem) in July of 1969. Responding to oppressive approaches to the health, educational, and political needs of the Puerto Rican community, the movement's revolutionary activism included organized protests and sit-ins targeting such concerns as trash pickups and lead paint hazards. The Young Lords advanced a thirteen-point political program that demanded community control of their institutions and land and challenged the exercise of power by the state and outsider-run institutions.
 
In The New York Young Lords and the Struggle for Liberation, Darrel Wanzer-Serrano details the numerous community initiatives that advanced decolonial sensibilities in El Barrio and beyond. Using archival research and interviews, he crafts an engaging account of the Young Lords' discourse and activism. He rescues the organization from historical obscurity and makes an argument for its continued relevance, enriching and informing contemporary discussions about Latino/a politics.  

About the Author
---
Darrel Wanzer-Serrano is Assistant Professor of Communication Studies at The University of Iowa, and editor of The Young Lords: A Reader.