Suffragettes and the Fight for the Vote (Paperback)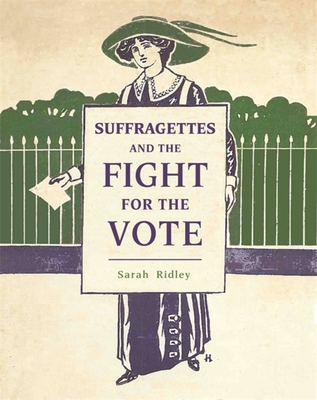 $11.99
In Stock—Click for Locations
Description
---
This book tells the story of the campaign to get women the vote in Britain through 14 significant objects. From photos of key people in the campaign through ephemera such as force-feeding equipment, banners and medallions Sarah Ridley brings the story to life. Beginning by looking at the role of women in the 19th Century and ending with the continuing struggle for equal rights for women in all parts of society, this is an essential read for young people aged 10 plus to understand the history of the women's movement on suffrage.

2018 was a landmark year that marked the centenary of the Representation of the People Act. This finally gave the vote to some women for the first time (women over 30, who owned property) and also gave the vote to all men (up until then, only about two-thirds of men had the vote). The Houses of Parliament celebrated this centenary with their 'Vote 100' project. 2018 was also be the 90th anniversary of women gaining full voting equality with men in 1928.
About the Author
---
Born in Suffolk, Sarah Ridley lives on the Suffolk/Essex border and is a writer and editor of educational books for children and young people. Recently, a life-long interest in history has led her to write books about the First World War, inspired by reading letters written by soldiers who served in the conflict. Brothers at War tells the story of uncovering the material held in her own family's archives. Dear Jelly sets letters written by soldier brothers to their younger sisters at its core. Teenage children keep Sarah busy when she isn't tied to her computer, and she relaxes by walking along river estuaries close to her home.
Praise For…
---
Beginning by looking at the role of women in the 19th Century and ending with the continuing struggle for equal rights for women in all parts of society, this is an essential read for young people aged 10 plus to understand the history of the women's movement on suffrage.—Parents In Touch

Quality non-fiction for KS1 and 2 is still something of a rarity, so Sarah Ridley's Suffragettes and the Fight for the Vote is particularly welcome.—Armadillo Magazine