We're following all official guidelines to keep ourselves healthy on the job, and as a result, shipping may be delayed.
You will receive an email from our web orders team confirming that your order has been processed.
We thank you for your support and your patience at this challenging time.
Detox Your Thoughts: Quit Negative Self-Talk for Good and Discover the Life You've Always Wanted (Hardcover)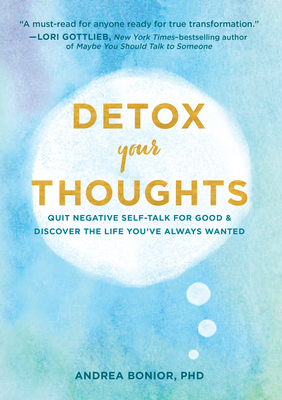 Description
---
In Detox Your Thoughts, popular psychologist Andrea Bonior, PhD, identifies the 10 most prevalent mental traps that make people feel anxious, insecure, and generally just bad.

Clinical psychologist Andrea Bonior has spent over twenty years studying, teaching, and practicing the science of thoughts, emotions, and behavior. In Detox Your Thoughts, she uses the latest research into mindfulness, Acceptance and Commitment Therapy (ACT), and Cognitive-Behavioral Therapy (CBT) to teach you to understand your thoughts–and your body–in a completely different way.

To challenge negative self-talk, you must change the way you relate to your thoughts altogether. Bonior shows us how to create new mental pathways that truly stick. For each of the ten mental traps, Bonior offers a new habit to practice, including:

• leaning in to your feelings
• recognizing and counteracting your blind spots to gain insight
• valuing the present moment, and immersing yourself in it.

Bonior deciphers the latest research in psychology and neuroscience to help disempower and conquer self-sabotaging thoughts with specific and actionable steps. You're not erasing negative thoughts, but rather growing bigger than they are–and improving your mental and emotional life along the way.

• Dr. Andrea Bonior is a popular psychologist and contributor to BuzzFeed and the Washington Post.
• Detox Your Thoughts was inspired by her popular BuzzFeed challenge of the same name.
• Dr. Bonior's mental health advice column, "Baggage Check," has appeared for 14 years in the Washington Post and several other newspapers nationwide.

With bite-sized psychology takes on the thought patterns that plague most people and a practical approach to quitting negative self-talk for good, Detox Your Thoughts is a transformational read.

• Perfect for readers of the Washington Post's "Baggage Check" column, Goodful's Detox Your Thoughts, Psychology Today, and The Cut's "Science of Us."
• Also a good fit for those who love pop psychology, self-help books, and any books related to motivation or happiness.
• Fans of Anxious for Nothing: Finding Calm in a Chaotic World by Max Lucado, 13 Things Mentally Strong People Don't Do by Amy Morin, and Dare: The New Way to End Anxiety and Stop Panic Attacks by Barry McDonagh will want this.

Audio edition read by the author.
About the Author
---
Dr. Andrea Bonior is the psychologist behind the popular "Baggage Check" advice column and live chat for the Washington Post. Her "Detox Your Thoughts" challenge for BuzzFeed went viral, and her PsychologyToday.com blog has garnered more than 13 million views. She has been interviewed by NPR, Today, and Good Morning America, and has been published by the New York Times, USA Today, Glamour, Self, and Refinery29. A sought-after speaker, she serves on the faculty of Georgetown University. She lives the Washington D.C. area.
Praise For…
---
"Whether you struggle with regret or you seek approval from others, Detox Your Thoughts will help you find the peace of mind you need to get unstuck." -Amy Morin, psychotherapist and author of 13 Things Mentally Strong People Don't Do

"With compassion and humor, Dr. Bonior brings the art and science of therapy to the page and guides us toward real change. A must-read for anyone ready for true transformation." -Lori Gottlieb, New York Times bestselling author of Maybe You Should Talk to Someone

"Andrea Bonior has written a powerful guide to help you overcome the destructive mental chatter that can block you from bliss. This book provides a clear road map to free up the mental space so you can pursue what's truly meaningful." -Shannon Kaiser author of The Self-Love Experiment and Joy Seeker

"Detox Your Thoughts gives you permission to feel your emotions-be they fuzzy or frenzied-and provides the tools to work with and through them. This is a funny, down-to-earth read that helps you transform self-doubt into self-assurance one thought at a time."-Monica Sweeney, bestselling author of Zen as F*ck

"In Detox Your Thoughts, Andrea Bonior brings you a slate of modern and proven methods to help you back up from toxic thoughts, show up to what is present, and get moving toward what you really want. Accessible, friendly, balanced, and wise, this well written book should be on your nightstand." -Steven C. Hayes, author of A Liberated Mind and Get Out of Your Mind and Into Your Life

"Bonior dazzles in this smart, sensible guide to vanquishing negative thoughts.. This witty, wise handbook's outstanding blueprint for achieving lasting happiness will be of aid to any reader prone to self-doubt." -Publishers Weekly (starred review)