The Filthy Truth (Hardcover)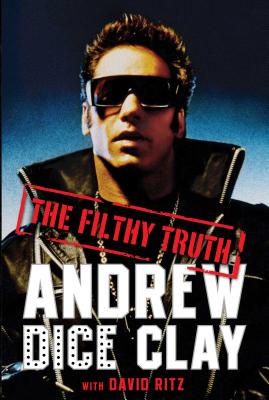 $26.99

Special Order—Subject to Availability
Description
---
From Andrew Dice Clay, the "Undisputed Heavyweight Comedy King," comes the unapologetic and uncensored autobiography fans have been waiting for.

Andrew Dice Clay's raw stand-up delivery has shocked and entertained audiences for decades and continues to do so to this day. When he released his debut album, Dice, in 1989, the parental advisory label simply read "Warning: This album is offensive." His material stretched the boundaries of decency and good taste to their breaking point, and in turn he became the biggest stand-up comic in the world.

In The Filthy Truth, Dice chronicles his remarkable rise, fall, and triumphant return. Brooklyn-born Andrew Clay Silverstein started out at Pips Comedy Club in Sheepshead Bay and eventually made a name for himself a decade later with a breakout appearance on the Rodney Dangerfield HBO special Nothing Goes Right. With that single TV appearance he became the new king of comedy, and Dicemania was born. He was the first and only comedian to sell out over three hundred sports arenas across the country to an audience of more than twelve million people. He was also the first comedian to sell out Madison Square Garden two nights in a row.

But Dice's meteoric rise and spectacular fame brought on a furious backlash from the media and critics. Billboards for his album produced by Rick Rubin and for his movie The Adventures of Ford Fairlane were defaced and ripped down as fast as they were put up. By the mid-nineties, though still playing to packed audiences, the turmoil in his personal life, plus attacks from every activist group imaginable, led him to make the decision to step out of the spotlight and put the focus on raising his boys.

The Diceman was knocked down, but not out. Taking inspiration from what Frank Sinatra once told him—"You work for your fans, not the media. The media gets their tickets for free"—Dice is now back with critically acclaimed roles in HBO's Entourage and Woody Allen's Blue Jasmine, and is once again playing to sold-out audiences.

Filled with no-holds-barred humor and honesty, The Filthy Truth sets the record straight and gives fans plenty of never-before-shared stories from his career and his friendships with Howard Stern, Sam Kinison, Mickey Rourke, Sylvester Stallone, Axl Rose, and countless others.
About the Author
---
Andrew Dice Clay is a stand-up icon, actor, and the most controversial and outrageous comedian of all time. He even holds the distinction of being the only performer to have been banned for life from MTV. In 2012, his first stand-up special in seventeen years, Indestructible, was Showtime's highest-rated comedy special to date. Once again and forever, Dice Rules.

David Ritz is a songwriter who has collaborated with stars like Janet Jackson and Marvin Gaye, as well as a renowned ghostwriter who has authored more than fifty books for some of the biggest stars in music: Aretha Franklin, Marvin Gaye, Ray Charles, Lenny Kravitz, Joe Perry, Smokey Robinson, Don Rickles, and Willie Nelson, to name a few. His articles have appeared in The New York Times, Rolling Stone, Essence, People, US, Art Connoisseur, and TV . He lives in Los Angeles with Roberta, his wife of 47 years.
Praise For…
---
"In the midst of reading this book I remembered what I really, really liked about Andrew Dice Clay--he said what you thought and would never say out loud; very honest and bitingly funny. The only thing I truly didn't know was what a fine actor he is (but that's not in the book, I'm just commenting). I loved the book because it's him. It's SO him."
— Whoopi Goldberg

"I've known Dice since he was Andrew Silverstein and his nursery rhymes were actual nursery rhymes. I've always thought his life would be a page turner. I wasn't wrong. Anybody who is a fan of comedy owes it to themselves to know Dice's whole story. The Filthy Truth is he's a really great guy and a hell of a storyteller."
— Arsenio Hall

"After working with Andrew on Blue Jasmine he will always appear to me as an incredibly talented movie actor. I encourage anyone to read this book to discover the path that led him there."
— Alec Baldwin

"No one did it bigger, louder, or ruder. And definitely no one did it funnier than Andrew Dice Clay."
— Nikki Sixx

"My friend Andrew Silverstein is a great comic who invented a character, 'Andrew Dice Clay,' who intends to offend, expose, and mock the common arrogance and stupidity of the ultra-macho male dinosaur, allowing us to laugh the whole archetype to scorn."
— Roseanne Barr

"I remember where I was when Dice appeared on the Rodney Dangerfield special in 1988 (my parents living room). I immediately knew we were entering a new age of comedy. Like Lenny Bruce and Richard Pryor before him, Dice was so stunningly shocking you couldn't look away. I swore that one day I would work with this guy. It took 20 years, but when he came onto the Entourage set it was like I was a kid again watching as a fan. He's a such a force and a presence that I think the revival that he is experiencing right now will be even more spectacular than his first time around."
— Doug Ellin, creator of the HBO television series Entourage

"This guy Dice provokes everybody. He's made a career out of his foul mouth and politically incorrect humor. Why would anyone want to live that way?"
— Eminem

"Andrew is one of the great comedians of our time. His best material is funny for a thousand reasons. I can't remember laughing harder at anyone more than him."
— Rick Rubin

"Dice is a absolute gentleman behind the scenes and in real life.. But a total BEAST on stage... 100% Original. Now buy his book!"
— Ice-T

"As low-down and dirty as ever."