Evaluating Police Uses of Force (Paperback)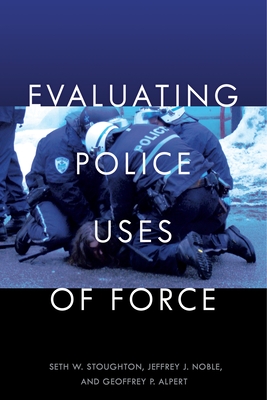 $25.00
In Stock—Click for Locations
Description
---
Provides a critical understanding and evaluation of police tactics and the use of force
Police violence has historically played an important role in shaping public attitudes toward the government. Community trust and confidence in policing have been undermined by the perception that officers are using force unnecessarily, too frequently, or in problematic ways. The use of force, or harm suffered by a community as a result of such force, can also serve as a flashpoint, a spark that ignites long-simmering community hostility. In
Evaluating Police Uses of Force
, legal scholar Seth W. Stoughton, former deputy chief of police Jeffrey J. Noble, and distinguished criminologist Geoffrey P. Alpert explore a critical but largely overlooked facet of the difficult and controversial issues of police violence and accountability: how does society evaluate use-of-force incidents? By leading readers through answers to this question from four different perspectives-constitutional law, state law, administrative regulation, and community expectations-and by providing critical information about police tactics and force options that are implicated within those frameworks,
Evaluating Police Uses of Force
helps situate readers within broader conversations about governmental accountability, the role that police play in modern society, and how officers should go about fulfilling their duties.
About the Author
---
Seth W. Stoughton is Associate Professor at the University of South Carolina School of Law. Jeffrey J. Noble is a police consultant and author of Managing Accountability Systems for Police Conduct: Internal Affairs and External Oversight. Geoffrey P. Alpert is a Professor in the Department of Criminology and Criminal Justice at the University of South Carolina and author of more than twenty books about criminal justice.