Big Game (FunJungle) (Paperback)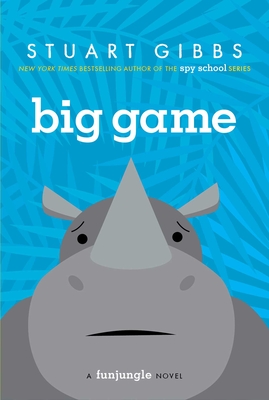 $8.99
In Stock—Click for Locations
Description
---
Teddy Fitzroy returns as FunJungle's resident zoo sleuth when a rhinoceros is at risk in Big Game, a follow-up to Belly Up and Poached—which Kirkus Reviews called a "thrill-ride of a mystery."

When someone takes aim at Rhonda Rhino, FunJungle's pregnant (and endangered) Asian greater one-horned rhinoceros, the zoo steps up security measures in order to protect this rare animal and her baby.

But the extra security isn't enough—someone is still getting too close for comfort. Teddy and company start to suspect that whoever is after Rhonda is really after her horn, which is worth a lot of money on the black market.

For the first time ever, the head of the zoo enlists Teddy for help—for once, he doesn't have to sneak around in order to investigate—and the results are even more wacky, and even more dangerous, than ever before.
About the Author
---
Stuart Gibbs is the New York Times bestselling author of Charlie Thorne and the Last Equation and the FunJungle, Spy School, and Moon Base Alpha series. He has written the screenplays for movies like See Spot Run and Repli-Kate, worked on a whole bunch of animated films, and developed TV shows for Nickelodeon, Disney Channel, ABC, and Fox. Stuart lives with his family in Los Angeles. You can learn more about what he's up to at StuartGibbs.com.
Praise For…
---
PRAISE FOR BELLY UP

"Great fun. . . .In his authorial debut, screenwriter Gibbs combines details of the inner workings of zoos with some over-the-top action for an entertaining read."
— Kirkus Reviews

PRAISE FOR POACHED

"This thrill-ride of a mystery is chock-full of hijinks for middle-grade sleuths and budding zoologists alike."
— Kirkus Reviews

"[A] genuinely engaging mystery set in a zoo. . . . Poached is so strong that it is surprisingly second in a series, following 2010's Belly Up, with only a few lines that refer to past adventures and, better yet, do not give spoilers for an audience that is sure to want to read more. . . . This will appeal to animal and mystery lovers alike."
— VOYA

"[W]hopper of a whodunit that delivers plenty of suspects, action, slapstick, gross bodily functions, red herrings, and animal trivia. This sequel stands alone nicely, and while the mystery is solved at the end, new occurrences promise to make Teddy's life much more interesting in a possible third book."
— School Library Journal