Spectrum Critical Thinking for Math, Grade 1 (Paperback)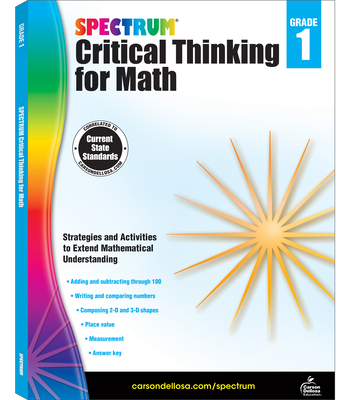 Description
---
Workbook Features:
- Ages 6-7, Grade 1
- 128 pages, about 8 1/2 inches x 11 inches
- Covers adding and subtracting through 100, writing and comparing numbers, place value, and more
- Features Check What You Learned reviews and a final test
- Answer key included
Focused Practice: The Spectrum Grade 1 Critical Thinking Workbook features 128 pages of essential math lessons and practices needed for first graders to strengthen their critical thinking skills for second grade success.
Correlated To Current State Standards: This standards-based first grade math workbook helps your child add and subtract through 100, write and compare numbers, compose 2-D and 3-D shapes, learn place value and measurements, and more.
How It Works: Each section of the Spectrum workbook features illustrations and detailed lessons on each topic with practice pages. Check What You Learned reviews are included at the end of each lesson, with a final test to assess overall knowledge.
Working Together: Parents love using the workbook for added practice from home, and teachers love to incorporate it into hands-on math lessons, tracking student progress with the answer key.
Why Spectrum: For more than 20 years, Spectrum has provided solutions for parents and teachers who want to help their children get ahead and exceed learning goals. Spectrum supports your child's educational journey every step of the way.