Freaks of the Heartland (Paperback)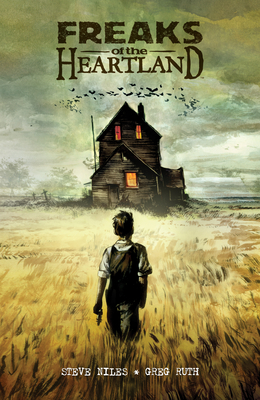 $19.99
In Stock—Click for Locations
Description
---
Trevor's monstrous little brother lives in the barn behind the house. The boy's only six years old, but he towers over his older brother, and possesses incredible strength.

For years, Trevor has looked after his baby brother, keeping him from the light, but now that's all about to change. His family's secret is about to be revealed, uncovering the horrible truth of the small Midwestern town the boys have grown up in.

Collects Freaks of the Heartland #1-6.
About the Author
---
Steve Niles was born June 21, 1965. He is an American comic book author and novelist, known for works such as 30 Days of Night, Criminal Macabre, Simon Dark, Mystery Society, and Batman: Gotham County Line. Niles was born in Jackson, New Jersey, and he was raised in the Washington, DC suburbs, developing various creative interests in music, writing, and making amateur films. He is credited among other contemporary writers for bringing horror comics back to prominence.

Greg Ruth is an author and illustrator of comic books and books for young readers. He is the author and artist of The Lost Boy, a New York Times bestselling graphic novel with Scholastic; and the illustrator of Our Enduring Spirit by President Barack Obama (HarperCollins, 2009), and Indeh: A Story of the Apache Wars by Ethan Hawke (Hachette Books). Greg Ruth has also published with many other comic book publishers, including Dark Horse Comics and Fantagraphics Books. He lives in western Massachusetts.