Ellie's Dragon (Hardcover)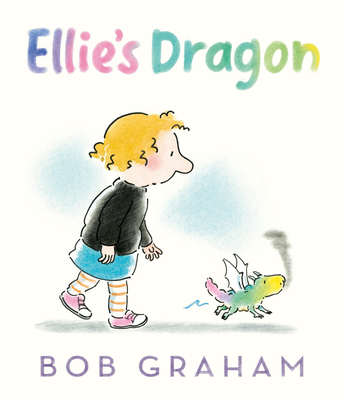 $16.99
In Stock—Click for Locations
Description
---
From master storyteller Bob Graham comes an adorable and affecting tale about imaginary friends and the bittersweet nature of growing up.

When Ellie is very small, she finds a lovable newborn dragon on a carton of eggs in the grocery store. Ellie calls him Scratch, takes him home, and moves him into her dollhouse. Her mother can't see Scratch, and her teacher doesn't notice when Ellie brings Scratch to preschool, yet her friends are amazed. Ellie is lucky to have an affectionate, house-trained dragon like Scratch! But dragons get quite large as they grow. And Ellie is growing, too, moving from dollhouses to dance parties, not noticing that Scratch's brilliant green scales are beginning to fade a little. . . . Beloved picture-book creator Bob Graham illustrates the joys of imagination and friendship in this touching story. With his signature gentle wit and warm, whimsically detailed illustrations, he captures the bond between girl and dragon, as well as the changes that come with time's passage. A wistful, quietly thought-provoking tribute to the friends who appear when we need them most, even if it's just for a little while.
About the Author
---
Bob Graham is the author-illustrator of many extraordinary and critically acclaimed books for children, including How to Heal a Broken Wing; The Silver Button; Home in the Rain; April and Esme, Tooth Fairies; and The Underhills: A Tooth Fairy Story. Bob Graham lives in Australia.
Praise For…
---
In Graham's (The Underhills: A Tooth Fairy Story) tender portrait of childhood, when young Ellie finds a rainbow-colored dragon hatchling in the supermarket's egg case, she names the tiny critter Scratch and sets him up cozily in her dollhouse at home...Graham's elegant watercolor-and-ink illustrations capture snapshots of a child maturing in scenes of curly-headed, pale-skinned Ellie dancing with her sleepover guests, who also cuddle up with Scratch in their bed. Though the message is more likely to resonate with adults than with children, Graham elegantly conveys the way that Scratch, like childhood, slips "quietly away into the night."
—Publishers Weekly

As usual with Graham, it's his gently puffy, diverse, and rumpled illustrative cast that really makes the story; Scratch is very much a Graham dragon in his cuddly bumpy scaliness, and it's a hoot to watch all the kids pointing at him in wonder as the adults pass by oblivious. There's an adult perspective to the trajectory and audiences may understand the story different ways depending on their own relationships with Scratch-like companions, but they'll be reassured by the notion that even the most evanescent of good friends can go on to find welcome elsewhere.
—Bulletin of the Center for Children's Books