We're following all official guidelines to keep ourselves healthy on the job, and as a result, shipping may be delayed.
You will receive an email from our web orders team confirming that your order has been processed.
We thank you for your support and your patience at this challenging time.
42 Is Not Just a Number: The Odyssey of Jackie Robinson, American Hero (Compact Disc)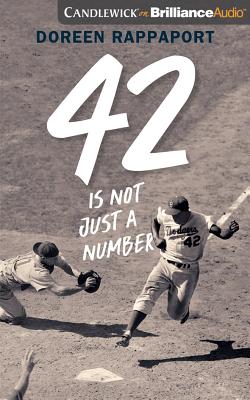 $49.97
Special Order—Subject to Availability
Description
---
An eye-opening look at the life and legacy of Jackie Robinson, the man who broke the color barrier in Major League Baseball and became an American hero.
Baseball, basketball, football--no matter the game, Jackie Robinson excelled. His talents would have easily landed another man a career in pro sports, but in America in the 1930s and '40s, such opportunities were closed to athletes like Jackie for one reason: his skin was the wrong color. Settling for playing baseball in the Negro Leagues, Jackie chafed at the inability to prove himself where it mattered most: the major leagues. Then in 1946, Branch Rickey, manager of the Brooklyn Dodgers, decided he was going to break the "rules" of segregation: he recruited Jackie Robinson. Fiercely determined, Jackie faced cruel and sometimes violent hatred and discrimination, but he proved himself again and again, exhibiting courage, restraint, and a phenomenal ability to play the game. In this compelling biography, award-winning author Doreen Rappaport chronicles the extraordinary life of Jackie Robinson and how his achievements won over--and changed--a segregated nation.