Enlightenment Unfolds (Paperback)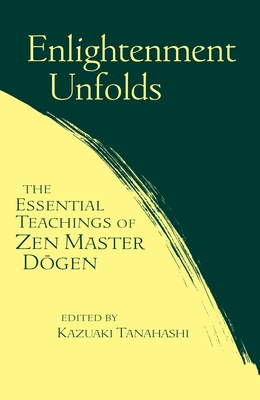 $24.95
Not On Our Shelves—Ships in 1-5 Days
(This book cannot be returned.)
Description
---
     Enlightenment Unfolds is a sequel to Kaz Tanahashi's previous collection, Moon in a Dewdrop, which has become a primary source on Dogen for Western Zen students. Dogen Zenji (1200-1253) is unquestionably the most significant religious figure in Japanese history. Founder of the Soto school of Zen (which emphasizes the practice of zazen or sitting meditation), he was a prolific writer whose works have remained popular for six hundred years. Enlightenment Unfolds presents even more of the incisive and inspiring writings of this seminal figure, focusing on essays from his great life work, Treasury of the True Dharma Eye , as well as poems, talks, and correspondence, much of which appears here in English for the first time.

     Tanahashi has brought together his own translations of Dogen with those of some of the most respected Zen teachers and writers of our own day, including Reb Anderson, Edward Espe Brown, Norman Fisher, Gil Fronsdal, Blanche Hartman, Jane Hirschfield, Daniel Leighton, Alan Senauke, Katherine Thanas, Mel Weitzman, and Michael Wenger.


About the Author
---
Kazuaki Tanahashi, a Japanese-trained calligrapher, is the pioneer of the genre of "one stroke painting" as well as the creator of multicolor enso (Zen circles). His brushwork has been shown in solo exhibitions in galleries, museums, and universities all over the world. Tanahashi has edited several books of Dogen's writings and is also the author of Brush Mind.
Praise For…
---
"Tanahashi is a writer and painter whose earlier collection, Moon in a Dewdrop served as an introduction to the work of Dogen for many Western readers. This sequel collection draws from the complete range of Dogen's writing. Some pieces have been widely translated and will be familiar to students of Zen, others have been reprinted from Moon in a Dewdrop, and still others appear here in English for the first time. Tanahashi worked with a number of co-translators, all of them Zen practitioners in Dogen's lineage, and the result is an accessible and admirably consistent text. This is particularly impressive given the somewhat eccentric nature of Dogen's prose, which can approach poetry and as a vehicle for Zen teachings often exists at the outer limits of usefulness of language in conveying meaning. Students of Zen will find this text essential."—Mark Woodhouse, Library Journal.