Appreciate Your Life: The Essence of Zen Practice (Paperback)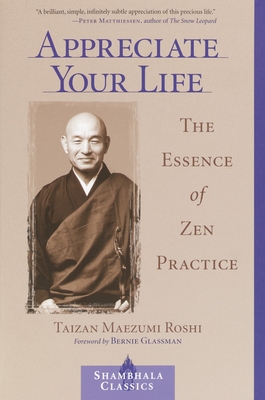 $21.95
Not On Our Shelves—Ships in 1-5 Days
(This book cannot be returned.)
Description
---
A collection of short, inspiring teachings on Zen koans, the Buddha, and more—from a leader in introducing Zen Buddhism to the West
 
Here is the first major collection of the teachings of Taizan Maezumi Roshi (1931-1995), one of the first Japanese Zen masters to bring Zen to the West and founding abbot of the Zen Center of Los Angeles and Zen Mountain Center in Idyllwild, California. These short, inspiring readings illuminate Zen practice in simple, eloquent language. Topics include zazen and Zen koans, how to appreciate your life as the life of the Buddha, and the essential matter of life and death.

Appreciate Your Life conveys Maezumi Roshi's unique spirit and teaching style, as well as his timeless insights into the practice of Zen. Never satisfied with merely conveying ideas, his teisho, the Zen talks he gave weekly and during retreats, evoked personal questions from his students. Maezumi Roshi insisted that his students address these questions in their own lives. As he often said, "Be intimate with your life."

The readings are not teachings or instructions in the traditional sense. They are transcriptions of the master's teisho, living presentations of his direct experience of Zen realization. These teisho are crystalline offerings of Zen insight intended to reach beyond the student's intellect to her or his deepest essence.
About the Author
---
Taizan Maezumi Roshi (1931–1995) was a seminal figure in the transmission of Zen Buddhism to the West. He was founding abbot of the Zen Center of Los Angeles (ZCLA) from 1967 to 1995 and of Zen Mountain Center from 1978 to 1995. He and his successors also founded Zen centers throughout the United States, Europe, and Mexico. Maezumi Roshi established The Kuroda Institute for the Study of Buddhism and Human Values, which promotes Buddhist scholarship and publishes, with the University of Hawaii Press, translations of East Asian Buddhist classics. He coauthored On Zen Practice: Foundation of Practice, On Zen Practice II: Body, Breath and Mind, and The Hazy Moon of Enlightenment. He also provided the commentary for The Way of Everyday Life: Zen Master Dogen's Genjokoan.
Praise For…
---
"A brilliant, simple, infinitely subtle appreciation of this precious life."—Peter Matthiessen, author of The Snow Leopard

"With a loving heart, Maezumi Roshi carried these teachings in his two hands across the ocean to offer to the West. Now you hold them in your hands, the subtle, profound, enigmatic Zen that awakens trust in your own true nature. Enjoy."—Jack Kornfield, author of A Path with Heart and After the Ecstasy, the Laundry

"We are fortunate, with Appreciate Your Life , to finally have a volume that evokes the voice and broad-minded teaching that have meant so much to all of us in Western Zen."—Zoketsu Norman Fischer, Zen priest and poet, founder of the Everyday Zen Foundation, senior dharma teacher at the San Francisco Zen Center

"Maezumi Roshi's dharma is gentle, generous, accessible, humorous, and above all encouraging."—Robert Aitken, author of Taking the Path of Zen and Original Dwelling Place