A Mindfulness-Based Stress Reduction Workbook [With CD (Audio)] (Paperback)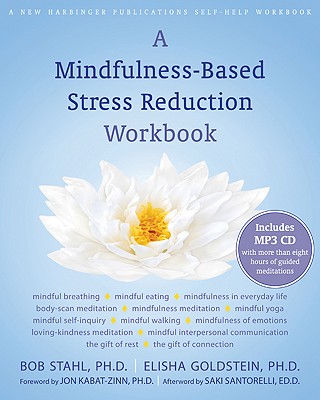 $25.95
Special Order—Subject to Availability
Description
---
Stress and pain are nearly unavoidable in our daily lives; they are part of the human condition. This stress can often leave us feeling irritable, tense, overwhelmed, and burned-out. The key to maintaining balance is responding to stress not with frustration and self-criticism, but with mindful, nonjudgmental awareness of our bodies and minds. Impossible? Actually, it's easier than it seems.
In just weeks, you can learn mindfulness-based stress reduction (MBSR), a clinically proven program developed by Jon Kabat-Zinn, author of Full Catastrophe Living. MBSR is effective in alleviating stress, anxiety, panic, depression, chronic pain, and a wide range of medical conditions. Taught in classes and clinics worldwide, this powerful approach shows you how to focus on the present moment in order to permanently change the way you handle stress.
As you work through
A Mindfulness-Based Stress Reduction Workbook
, you'll learn how to replace stress-promoting habits with mindful ones--a skill that will last a lifetime.This groundbreaking, proven-effective program will help you relieve the symptoms of stress and identify its causes so that you can start living a healthier, happier life.
About the Author
---
Bob Stahl, Ph.D., founded and directs mindfulness-based stress reduction (MBSR) programs in three medical centers in the San Francisco Bay Area. A longtime mindfulness practitioner, he has completed MBSR teacher certification at University of Massachusetts Medical Center and lived in a Buddhist monastery for more than eight years. Bob also serves as adjunct senior teacher for Oasis, the institute for mindfulness-based professional education at the Center for Mindfulness in Medicine, Health Care, and Society at the University of Massachusetts Medical School. Elisha Goldstein, Ph.D., is a clinical psychologist and cofounder of the Mindfulness Center for Psychotherapy and Psychiatry. He teaches MBSR and mindfulness-based cognitive therapy (MBCT) in West Los Angeles. He is author of the audio CD series Mindful Solutions, which deals with issues such as stress, anxiety, depression, addiction, adult ADHD, and success at work. He is also author of popular mindfulness and psychotherapy blogs on www.psychcentral.com and www.mentalhelp.net, and conducts workshops, radio interviews, and lectures on the therapeutic benefits of mindfulness. Foreword writer Jon Kabat-Zinn, Ph.D., is author of numerous books, including Full Catastrophe Living; Wherever You Go, There You Are; and Coming to Our Senses. Afterword writer Saki Santorelli, Ed.D., MA, is executive director of the Center for Mindfulness in Medicine, Health Care, and Society at the University of Massachusetts Medical School and author of Heal Thyself. Visit www.mbsrworkbook.com for more information.