The Healthy Brain Kit: Clinically Proven Tools to Boost Your Memory, Sharpen Your Mind, & Keep Your Brain Young [With 35 Brain-Training Cards and 2 Au (Paperback)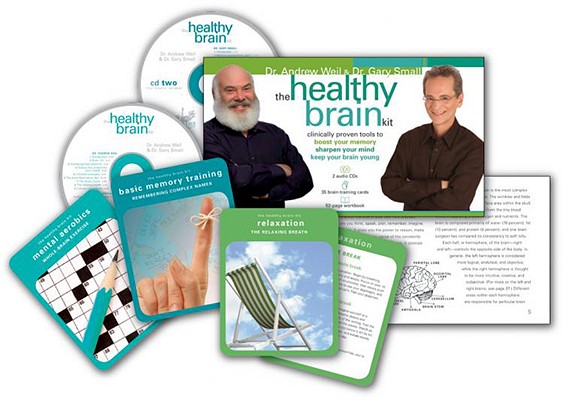 $26.95
Special Order—Subject to Availability
Description
---
You exercise your body to keep it at peak performance--but what about your brain? At UCLA, Dr. Gary Small is proving that you can boost memory, sharpen concentration, enhance verbal fluency, and more--in less than two weeks. Now, with
The Healthy Brain Kit,
Dr. Small teams up with internationally renowned physician Dr. Andrew Weil to offer a complete program of tools and recommendations for increasing your brainpower immediately. This information-packed kit includes:
2 CDs spotlighting the secrets of the brain and its remarkable abilities, plus Dr. Small's favorite "mental aerobics" exercises specifically designed to strengthen both hemispheres of the brain52-page workbook with proven nutrition and lifestyle recommendations from Dr. Weil for keeping your brain healthy and your mind sharp for life35 brain-training cards offering tips, aids, and teasers to enhance your brain performance anytime, anywhere
Whether you're concerned about memory loss, poor concentration, or enhancing your creativity, or you simply want to regain that cognitive edge of your youth,
The Healthy Brain Kit
gives you the most essential skills for keeping your brain in optimum shape today, and in the years ahead.
About the Author
---
Andrew WeilAndrew Weil, MD, is a world-renowned leader and pioneer in the field of integrative medicine, a healing-oriented approach to health care which encompasses body, mind, and spirit. He is founder and director of the Arizona Center for Integrative Medicine (AzCIM) at the University of Arizona Health Sciences Center in Tucson, and director of Integrative Health & Healing at Miraval Life in Balance Resort in Tucson. Dr. Weil's bestselling books include Spontaneous Happiness, Eight Weeks to Optimum Health, and Spontaneous Healing, and his popular audio programs with Sounds True include The Healthy Heart Kit and Breathing: The Master Key to Self-Healing.Gary SmallGary Small, M.D. is the director of the UCLA Memory and Aging Research Center. For his work in the prevention of Alzheimer's disease and brain aging, Scientific American magazine named him "one of the world's top 50 innovators in science and technology." His work has been featured in the New York Times, Wall Street Journal, Los Angeles Times, Washington Post, Time, Newsweek, and USA Today. Gary Small is the author of The Memory Bible.