Past Master (Paperback)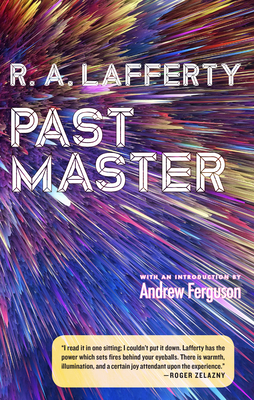 $14.95
In Stock—Click for Locations
Description
---
Wolf Hall meets The Man in the High Castle in this mind-bending science fiction classic, now presented in an authoritative new edition from Library of America

Plucked from time, Sir Thomas More arrives on the human colony of Astrobe in the year 2535 A.D., where there is trouble in utopia: can he and his motley followers save this golden world from the Programmed Persons, and the soulless perfection they have engineered? The survival of faith itself is at stake in this thrilling, uncategorizable, wildly inventive first novel--but the adventure is more than one of ideas. As astonishingly as Philip K. Dick and other visionaries of the 1960s new wave, Lafferty turns the conventions of space-opera science fiction upside-down and inside-out. Here are fractured allegories, tales-within-tales, twinkle-in-the-eye surprises, fantastic byways, and alien subjectivities that take one's breath away. Neil Gaiman has described Lafferty "a genius, an oddball, a madman"; Gene Wolfe calls him "our most original writer." Past Master, long-hailed by insiders and now presented in authoritative form, with an introduction by Andrew Ferguson and unpublished omitted passages included in the notes, deserves to perplex and delight a wider audience.
About the Author
---
Born in Neola, Iowa, and raised in Oklahoma, R(aphael) A(loysius) Lafferty (1914-2002) left the University of Tulsa after two years, working as an electrical engineer and occasional newspaperman. He served in the U.S. Army in the Pacific during World War II. Publishing his first story in his mid-forties, he went on to write more than a dozen science fiction novels, as well as Okla Hannali (1972), an historical novel about the Choctaw Nation.

Andrew Ferguson, a leading Lafferty scholar, is currently at work on a biography of this neglected master. He serves as visiting assistant professor of English and Digital Studies at the University of Maryland.