We're following all official guidelines to keep ourselves healthy on the job, and as a result, shipping may be delayed.
You will receive an email from our web orders team confirming that your order has been processed.
We thank you for your support and your patience at this challenging time.
Gardenlust: A Botanical Tour of the World's Best New Gardens (Hardcover)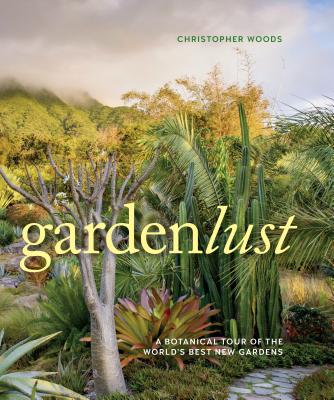 Description
---
"An extraordinary collection of 21st-century gardens that will arouse wanderlust… Whether you are a garden globetrotter or an armchair explorer, this book is definitely one to add to your collection." —Gardens Illustrated

A steep hillside oasis in Singapore, a garden distinguished by shape and light in Marrakech, a haunting tree museum in Switzerland—these are just a few of the extraordinary outdoor havens visited in Gardenlust. In this sumptuous global tour of modern gardens, intrepid plant expert Christopher Woods spotlights 50 gardens that push boundaries and define natural beauty in significant ways. Featuring both private and public gardens, this journey makes its way from the Americas and Europe to Australia and New Zealand, with stops in Asia, Africa, and the Arabian Peninsula. Along the way, you'll learn about the people, plants, and stories that make these iconic gardens so lust-worthy. As inspiring as it is insightful, Gardenlust will delight your passion for garden inspiration—and the many places it grows.
About the Author
---
Christopher Woods began his gardening life at the Royal Botanical Gardens, Kew. He was director and chief designer of Chanticleer, transforming it into one of America's most exuberant, romantic, and flamboyant gardens and made it renowned for creative and innovative techniques. He has served as vice president for horticulture at the Santa Barbara Botanical Garden; director of the Van Dusen Botanical Garden in Vancouver, Canada; executive director of the Mendocino Coast Botanical Garden; and director of the Pennsylvania Horticultural Society's Meadowbrook Farm.
Praise For…
---
"Beautiful colored photographs. . . . the variety of designs is impressive." —Booklist

"Woods's broad outlook is refreshing. . . . this title features many large, jaw-dropping photos of each garden accompanied by descriptive essays that discuss thoughtfully cogently, and often humorously the recurring themes. . . . Highly recommended for anyone interested in modern gardens, garden design, or garden travel." —Library Journal

"To be passionate about gardens but have wanderlust seems like a curse of mythological proportion. It might turn you into a plant explorer, a landscape photographer or, if you are Christopher Woods, into a horticultural sojourner and writer." —Washington Post

"An extraordinary collection of 21st-century gardens that will arouse the wanderlust in anyone keen on contemporary landscape design. . . . It would be hard to pick out the star turns from this line-up of brilliant botanical hot spots as they are all so inspiring. . . . The quality of the photography in this book is exquisite, and the images are plentiful. Whether you are a garden globetrotter or an armchair explorer, this book is definitely one to add to your collection." —Gardens Illustrated

"A seductive new title. . . . Regardless of which gardens inspire the most awe in any individual reader, most if not all will feel the tug of wanderlust and the gardenlust to explore many of these new and beautiful landscapes." —NYBG's Plant Talk

"Author Chris Woods worked in top British gardens before moving to the States, where he transformed Chanticleer, and in his safe hands we are transported to these special places to discover what makes them notable. . . . His enthusiasm and warmth carry the reader along and make this the perfect gift for people who love real or armchair garden visiting, at home and abroad." —The Telegraph

"Gardenlust transcends the sameness that often afflicts garden compendiums. Concise but engaging descriptions. . . gorgeous photographs . . . evoke a visceral feeling of being in each garden. . . . Occasionally, I find a book that expands or alters the way I look at the world—an experience akin to discovering a new color. Gardenlust is such a book. . . it artfully promulgates the fact that the garden, in all its myriad forms, is truly a thread of connection between all people." —The American Gardener

"Gardenlust looks at the best 21st century gardens in the world." —San Francisco Chronicle

"You'll be ready to travel when you pick up Gardenlust by British plant expert Christopher Woods. . . . Every designer, everyone who loves gardens and plants will want a copy of this book. It's the first real comprehensive survey of fabulous 21st century gardens." —Garden Design Online
 
"Woods is uniquely qualified to write a book of such a daunting global scope. . . . a long love letter to the planet and its people, particularly gardeners who have created beauty and devoted their lives to helping others see that beauty." —Mother Nature Network

"I can't think of a more fitting title for this handsome coffee table book. . . . He held my attention with his thoughtful approach to the perplexing issues of plant diversity, globalization, nativity and urbanization. . . . As I closed the book, I had the sensation that I had traveled to see amazing gardens. What an incredible journey." —The Oregonian

"Gardenlust reads like the most luscious travel brochure ever…as inspiring as it is insightful, you'll discover ideas for your own garden…and maybe your next travel destination."—The Gardener