American Crucifixion: The Murder of Joseph Smith and the Fate of the Mormon Church (Paperback)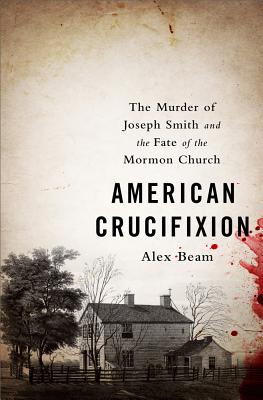 $16.99
Special Order—Subject to Availability
Description
---
On June 27, 1844, a mob stormed the jail in the dusty frontier town of Carthage, Illinois. Clamorous and angry, they were hunting down a man they saw as a grave threat to their otherwise quiet lives: the founding prophet of Mormonism, Joseph Smith. They wanted blood.

At thirty-nine years old, Smith had already lived an outsized life. In addition to starting his own religion and creating his own "Golden Bible" -- the Book of Mormon -- he had worked as a water-dowser and treasure hunter. He'd led his people to Ohio, then Missouri, then Illinois, where he founded a city larger than fledgling Chicago. He was running for president. And, secretly, he had married more than thirty women.

In American Crucifixion, Alex Beam tells how Smith went from charismatic leader to public enemy: How his most seismic revelation -- the doctrine of polygamy -- created a rift among his people; how that schism turned to violence; and how, ultimately, Smith could not escape the consequences of his ambition and pride.

Mormonism is America's largest and most enduring native religion, and the "martyrdom" of Joseph Smith is one of its transformational events. Smith's brutal assassination propelled the Mormons to colonize the American West and claim their place in the mainstream of American history. American Crucifixion is a gripping story of scandal and violence, with deep roots in our national identity.
About the Author
---
Alex Beam is a columnist for the Boston Globe and for the International Herald Tribune. He is the author of two works of nonfiction, Gracefully Insane and A Great Idea at the Time, both New York Times Notable Books. He has also written for the Atlantic Monthly, Slate, and Forbes/FYI. He lives in Newton, Massachusetts with his wife and three sons.
Praise For…
---
"Beam's tale brings alive a cast of early 1840s characters as strange, flawed, and significant as any in American history…[R]eveals how the fight over Mormonism, one built both on its distinctive claims and its enemies' intolerance, extends into our day. Better, Beam implies in this lively telling, to try to understand its sad and violent origins than to condemn or praise it outright." —
Publishers Weekly
"In his nuanced and engrossing tale of the first Mormons' alternating periods of triumph and despair along the original American frontier—on both sides of Huck Finn's antebellum Mississippi River—Beam illuminates not just their history but their nation's."—
Maclean's
"High drama as one of America's greatest—and most mystifying—characters, Joseph Smith, meets one our most incisive writers, Alex Beam, at a crossroads of our history."—
Ron Rosenbaum, author of Explaining Hitler and The Shakespeare Wars
—
-
"The murder of Mormon religious leader Joseph Smith is compelling on its own terms and is made all the more so here by Beam's thorough research and riveting storytelling… Beam's page-turner will appeal to history (not just religious history) buffs, as well as find a place on specialists' shelves owing to its examination of primary sources."—
Library Journal, Starred review
"Beam offers a captivating saga of Smith's rise and fall and of a colorful cast of characters who contributed to the internal politics and rivalries that led to Smith's death and drove the Mormons forward to their destiny. Anyone interested in the formation and transformation of Mormonism as well as the intersection of religion, politics, and U.S. history will enjoy this fascinating book." —
Booklist starred review
—
-
"[A] colorful account of the amazing rise and untimely demise of this fascinating figure… [Smith] was one-of-a-kind, to be sure, but Beam insightfully analyzes him in the broader context of Jacksonian America's raucously democratic and frequently violent frontier…A compulsively readable tale of Smith's life and times,
American Crucifixion
also serves as an intriguing study of why people are moved to abandon themselves, both to devout religious belief and unreasoning fear and hatred of 'the other.'" —
Cleveland Plain Dealer
"Beam is the consummate journalist, precise about his research and offering judgment only where there is ample proof of wrongdoing. He treats Smith with journalistic objectivity but doesn't hesitate to point out that 'Joseph received so many revelations that they inevitably conflicted.' With so much history to tackle, from the roots of Mormonism to the economic, political and moral climate in which hatred of the new religion developed, it is impressive that Beam maintains narrative tension and excitement while injecting personality…A fascinating history that, while particularly appealing to those interested in religion, is sure to inform a far wider audience." —
Kirkus Reviews
—
-
"A remarkably fair account of the origins and trajectory of Mormonism itself…Mr. Beam displays a fine sense of narrative pacing… 'American Crucifixion' is an excellent book about the life and death of this utterly uncategorizable man."—Wall Street Journal

"Fascinating…While American Crucifixion masters its setting and era, the book's greatest contribution is its dramatic account of the events, as acted out by many memorable characters… American Crucifixion paints a brilliant picture of religious experimentation, public intolerance and the making of a martyr."—Chicago Tribune

"It's a brutal yet absorbing slice of history that Alex Beam captures well in his new book, American Crucifixion: The Murder of Joseph Smith and the Fate of the Mormon Church While Beam wraps in some essential early church history, this is at heart a journalistic account of a murder that tells us as much about religious intolerance and the low flash point of mob violence as it does about Mormonism." —Los Angeles Times

"An evenhanded and fast-paced history… Focusing on the days surrounding the perversion of justice that took place in Carthage, Beam makes every effort to contextualize Joseph Smith in American history."—Daily Beast—-