Latinos and the 2016 Election: Latino Resistance and the Election of Donald Trump (Latinos in the United States) (Paperback)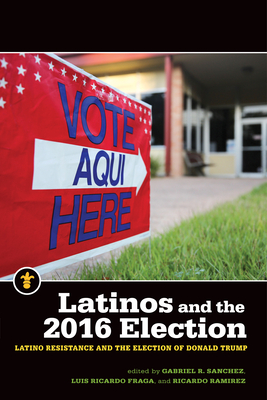 $39.95
Special Order—Subject to Availability
Description
---
The 2016 election saw more Latino votes than the record voter turnout of the 2012 election. The essays in this volume provide a highly detailed analysis of the state and national impact Latino voters had in what will be remembered as one of the biggest surprises in presidential election history. Contrary to much commentary, Latino voters increased their participation rates in all states beyond the supposed peak levels that they attained in 2012. Moreover, they again displayed their overwhelming support of Democratic candidates and even improved their Democratic support in Florida. Nonetheless, their continued presence and participation in national elections was not sufficient to prevent the election of Donald Trump, the Republican presidential candidate who vilified Latinos and especially Latino immigrants. Each essay provides insights as to how these two competing realities coexist, while the conclusion addresses the implications of this coexistence for the future of Latinos in American politics.
About the Author
---
GABRIEL R. SANCHEZ is a Professor of Political Science at the University of New Mexico, Executive Director of the UNM Center for Social Policy, and a principal for Latino Decisions, a political opinion research firm.

LUIS RICARDO FRAGA is the Rev. Donald P. McNeill, C.S.C., Professor of Transformative Latino Leadership; Joseph and Elizabeth Robbie Professor of Political Science; and Director of the Institute for Latino Studies at the University of Notre Dame.

RICARDO RAMÍREZ is an Associate Professor of Political Science at the University of Notre Dame. He is the Director of the Hesburgh Program in Public Service and a faculty fellow in the Institute for Latino Studies.
Praise For…
---
"Latinos and the 2016 Election is an invaluable look back at a critical election that both marginalized and mobilized a key demographic of the American electorate. With substantive coverage of voters by age, gender, and national origin, as well as segments devoted to political developments by state, this clear, empirical assessment of current patterns and future trends provides a useful and timely primer of Latinos' role in American elections heading into the 2020 election cycle, and beyond."
—MICHAEL JONES-CORREA, Presidential Professor of Political Science, University of Pennsylvania