The Money Cult: Capitalism, Christianity, and the Unmaking of the American Dream (Hardcover)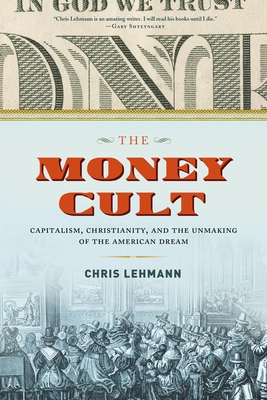 Description
---
A grand and startling work of American history

America was founded, we're taught in school, by the Pilgrims and other Puritans escaping religious persecution in Europe—an austere and pious lot who established a culture that remained pure and uncorrupted until the Industrial Revolution got in the way.

In The Money Cult, Chris Lehmann reveals that we have it backward: American capitalism has always been entangled with religion, and so today's megapastors, for example, aren't an aberration—they're as American as Benjamin Franklin.

Tracing American Christianity from John Winthrop to the rise of the Mormon Church and on to the triumph of Joel Osteen, The Money Cult is an ambitious work of history from a widely admired journalist. Examining nearly four hundred years of American history, Lehmann reveals how America's religious leaders became less worried about sin and the afterlife and more concerned with the material world, until the social gospel was overtaken by the gospel of wealth.

Showing how American Christianity came to accommodate—and eventually embrace—the pursuit of profit, as well as the inescapability of economic inequality, The Money Cult is a wide-ranging and revelatory book that will make you rethink what you know about the form of American capitalism so dominant in the world today, as well as the core tenets of America itself.
About the Author
---
CHRIS LEHMANN is the co-editor of Bookforum, senior editor and columnist for The Baffler, and book review columnist for In These Times. He has written for Harper's, the Atlantic Monthly, the Washington Post, the New York Observer, Yahoo, Slate, Salon, The Awl, Raritan, The Nation, Mother Jones, The Washingtonian, The Washington Monthly, Lingua Franca, Reason, and Democracy. He is the author of Rich People Things and Revolt of the Masscult.
Praise For…
---
"A tour de force that illustrates the continuities of American cultural and economic history...Chris Lehmann has shown us why religious history is the mainstream of American history -- and how Protestant theologians became the court poets of capitalism.—The New York Times Book Review

"Eye-popping and prodigiously researched."—Maclean's

"Lehmann's excavations may be sobering, but it is absolutely necessary for us to know this backstory if we are to have any hope of understanding the contemporary religious and political landscape, including the spiritual context that lies behind Trumpism's rapid ascent."—Religion Dispatches

"One of the season's most substantial nonfiction books — from one the best essayists and polemicists writing in the US."—Flavorwire

"Brilliantly written and wide-ranging."—Reason

"Lehman tells the tale with a breadth and bravado that's rare..."—Raritan Review

"Entertaining and erudite."—Publishers Weekly

"Lehmann's intellectual history of the long association between Christian faith and the pursuit of the materially good life makes enthralling reading."—Booklist

"Far from being a simple polemic against an easy target, Lehmann provides an in-depth investigation into the social transformation of religious thought…A thorough, critical, and information-dense history of American 'self-help' religion."—Library Journal

"Lively…Lehmann makes an important and timely point, which is that American religion has always been about money."—Kirkus Reviews


"American Christianity was not corrupted by capitalism, as I had charitably imagined. Almost from the start, it has peddled magical thinking as a means to success in the most mundane commercial undertakings, making it a literal 'money cult.' This is Chris Lehmann at his most biting best."
—Barbara Ehrenreich, author of Nickel and Dimed

"Chris Lehmann is your tour guide in a startling journey through the Protestant past. After providing heaps of stomach-turning evidence, he reaches a shocking conclusion: that old time religion we hanker to get back to is just the church of mammon. We've been confusing God and the market all along."—Thomas Frank, author of What's the Matter with Kansas?


Praise for Rich People Things:
 
"Social criticism at its scorching-hot best." —Barbara Ehrenreich
 
"Think H.L. Mencken crossed with Jon Stewart." —The Phoenix
 
"This book made me laugh and cry. And wish I were a plutocrat. Chris Lehmann is an amazing writer. I will read his books until I die." —Gary Shteyngart