Making History (Paperback)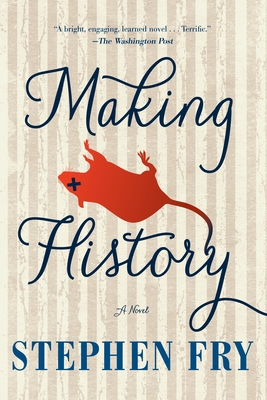 Description
---
Stephen Fry tackles alternate history, asking: What if Hitler had never been born?
 
Michael Young is a graduate student at Cambridge who is completing his dissertation on the early life of Adolf Hitler. Leo Zuckerman is an aging German physicist and Holocaust survivor. Together they idealistically embark on an experiment to change the course of history. And with their success is launched a brave new world that is in some ways better than ours—but in most ways even worse. Fry's sci-fi-tinged experiment in history makes for an ambitious and deeply affecting novel.
About the Author
---
Stephen Fry is an actor, producer, director, and writer who has appeared in numerous TV series and movies, including Jeeves and Wooster, Wilde, Gosford Park, V for Vendetta and The Hobbit: The Desolation of Smaug. He is the bestselling author of four novels, as well as several works of nonfiction, and divides his time between New York and the UK.
Praise For…
---
Praise for Making History

"A bright, engaging, learned novel . . . Terrific."
—The Washington Post

"Witty and eccentric . . . The ever astute actor/author asks the question: Does man make history or does history create the man? And [he] answers with a jolt of surprising insight."
—Elle

"Making History tears along like a cinematic thriller, building suspense with each fresh scene."
—Baltimore Sun

"Exuberant . . . brilliant and convincing."
—Minneapolis Star-Tribune

"Part academic send-up, part zany screenplay, and part invented history, the novel dives headfirst into the trashbin of history and roots around with alternating elan and solemnity . . . Imaginative."
—BookPage

"Clever, throught-provoking and very funny."
—Library Journal

"[Fry's] best novel yet . . . An extravagant, deeply questioning work of science fiction."
—GQ