This Side of Home (Paperback)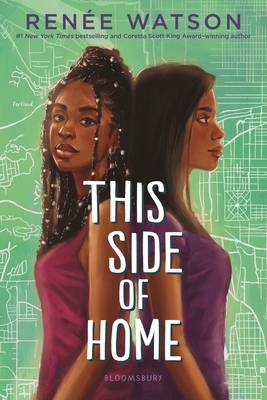 $10.99
In Stock—Click for Locations
Description
---
From Newbery Honor and Coretta Scott King Author Award winner Rene Watson comes a captivating and poignant coming-of-age urban novel about sisters, friends, and what it means to embrace change.

Maya Younger and her identical twin sister, Nikki, have always agreed on the important things. Friends. Boys. School. They even plan to attend the same historically African American college.
But nothing can always remain the same.

As their Portland neighborhood goes from rough-and-tumble to up-and-coming, Maya feels her connection to Nikki and their community slipping away. Nikki spends more time at trendy coffee shops than backyard barbecues, and their new high school principal is more committed to erasing the neighborhoods "ghetto" reputation than honoring its history. Home doesnt feel like home anymore. As Maya struggles to hold on to her black heritage, she begins to wonder with whom--or where--she belongs. Does growing up have to mean growing apart?
About the Author
---
Rene Watson grew up in Portland Oregon, came to New York for her degree in writing, and now teaches poetry in the New York City Schools. Her books include Betty Before X, Harlem's Little Blackbird: The Story of Florence Mills, A Place Where Hurricanes Happen, and What Momma Left Me which debuted as the New Voice for 2010 in middle grade fiction by The Independent Children's Booksellers Association.
Praise For…
---
Writing with the artfulness and insights of African American teen-lit pioneers Rita Williams-Garcia, Angela Johnson, and Jacqueline Woodson, Watson shows Maya exploring concerns rarely made this accessible . . . essential for all collections. starred review, Booklist

Watson paints a thoughtful, powerful picture of the complications of contemporary African- American experience, especially when it rubs up against the hipster middle class. . . . Without ever losing focus on the story of a group of likable teens working through changes during their senior year, Watson effectively manages character and situation to create a genuinely interrogative, genuinely multi-voiced perspective that reflects efforts to negotiate personal identity and desires amid unresolved problems of systemic racial injustice. starred review, BCCB

An intriguing look at how families and young people cope with community and personal change. Readers may be surpised to find this multicultural story set in Portland, Oregon, but that just adds to its distinctive appeal. Here's hoping Watson's teen debut will be followed by many more. Kirkus Reviews

Watson delivers a well-rounded, delicate, and important story without sacrificing any heart. An engrossing and timely coming-of-age story. School Library Journal

Watson hits key topics of class, race, and changing neighborhoods while telling a story about growing up, growing apart, and how love can come out of the blue, as well as across racial lines. Publishers Weekly

Watson's first book for young adults will impact the life of anyone who reads it. . . . at a time when there is a call for more diverse books, Watson brings to today's teens a story that needs to be read. VOYA

A wonderful book that deals with racial stereotypes and is thoughtful, well-written, and timely. Library Media Connection

In This Side of Home, Rene Watson's loving, descriptive powers are in full force. She's sharing a vibrant world so well, friends who make us care, crackling true voices and legacies, interweave of troubles, knowing a place, wanting it never to change except in good ways, holding on to friends, doorways, porches, rooms and rhythms, don't go, don't go, the tiny rich glories making it home. 'Sometimes you have to rewrite your own history,' she says, then she lets her people do it, reshaping . . . 'A cleansing is taking place' and it's the world we live in and she gives it back to us so we understand the mystery a little better even if we can't solve it, even if nothing is ever quite fair. There's more there, and she finds it. Naomi Shihab Nye, author of HABIBI