A Bigger Sky: Awakening a Fierce Feminine Buddhism (Paperback)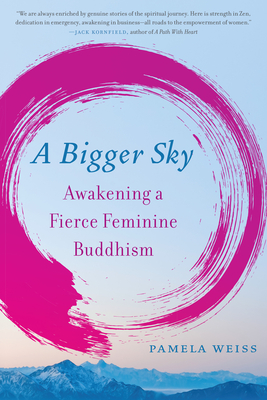 $17.95

In Stock—Click for Locations
Description
---
Reimagining Buddhism through a feminine lens: A powerful memoir of healing, strength, and spiritual awakening.

Written by the first and only layperson to receive full dharma transmission in the Suzuki Roshi Soto Zen lineage, A Bigger Sky explores what it means to traverse the gaps of a Buddhism created by and for men, navigate the seemingly contradictory domains of secular and spiritual life, and walk a path through the heart of the world. Blending memoir, Buddhist practice, and cultural observation, Weiss reorients Buddhism through a wider and more inclusive feminine lens. Her personal and spiritual journey speaks to the bits of brokenness in us all, shining a light on the different pathways we can walk to become whole.

Through beautifully crafted prose, Weiss shares what it means to be an ordinary Bodhisattva, describing how the Buddha's profound vision of freedom can be lived outside of institutions and rule-bound practice to support us in deepening our connection with ourselves, each other, and the planet. A Bigger Sky illuminates how integrating a more feminine approach to Buddhist teachings can be applied in spiritual practice, community, relationships, and day-to-day life.
About the Author
---
PAMELA WEISS is a Buddhist teacher authorized in two traditions--Zen and Theraveda--and is the first and only layperson in the Suzuki Roshi Soto Zen lineage to receive full Dharma Transmission. After living as a monastic at Tassajara Zen Mountain Monastery, she completed comprehensive training through Spirit Rock Meditation Center to become an Insight meditation teacher. She is a member of the Spirit Rock Teacher Council, a guiding teacher at San Francisco Insight, and a visiting teacher at the Brooklyn Zen Center. Weiss is also an executive coach, CEO, entrepreneur, and pioneer in bringing Buddhist principles and practices into the workplace. She lives in San Francisco with her husband and her little dog, Grover.
Praise For…
---
REVIEWS . . . 

"[A] steady, wise debut… Weiss weaves an empowering vision of Buddhism into her life story; she also integrates feminine views into Buddhist tenets and encourages women to speakup."—PUBLISHER'S WEEKLY  

"Here is strength in Zen, dedication in emergency, awakening in business—all roads to the empowerment of women."—JACK KORNFIELD, author of A Path With Heart

"We are unique . . . never to be repeated. And, we are as common as dirt—even our dreams reveal this. Weiss shows us in a handful of pages what this dream journey that is more real than real might look like. It took my breath away."
—James Ishmael Ford, author of Introduction to Zen Koans 

"A Bigger Sky takes the reader on a profound, groundbreaking, and totally engaging journey of awakening and healing."—KITTISARO AND THANISSARA, authors of Listening to the Heart

"This is a deeply soulful, engaging, and ultimately joyous book. I read it in one sitting and put it down with a broad smile."—JAN WILLIS, author of Dreaming Me: Black, Baptist, and Buddhist

" There are deep teachings in here—dive in."—BHIKKHUNI ANANDABODHI, cofounder of Aloka Vihara Forest Monastery and coauthor of Leaving it all Behind

"A Bigger Sky beautifully illuminates the power of the strong feminine and its essential role for us all in personal and planetary healing."—FRANK OSTESESKI, author of The Five Invitations

"This is a wise, beautiful book. As I was reading, I felt myself soften to the original source so lucidly described in her writing. You will, too."—ALLISON POST, coauthor of The Gut Wellness Guide

"A beautiful and courageous book for those new to the world of meditation and for those seeking a fuller expression of how the path can unfold."—MATTY WEINGAST, author of The First Free Women

"[Weiss] seemlessly weaves . . . a feminist take on Buddhist teachings, ancient myth, and hard-won wisdom from her spiritual path."—DIANA WINSTON, author of The Little Book of Being and director at UCLA's Mindful Awareness Research Center

"I highly recommend this engrossing account for anyone on a spiritual path."
—LAMA PALDEN DROLMA, author of Love on Every Breath and founder of Sukhasiddhi Foundation

"Weiss beautifully articulates . . . the human journey . . . the joys and sorrows of the only life we have to live."—LARRY YANG, author of Awakening Together

"Practitioners who are birthing more inclusive and integrated forms of American Buddhism will find much inspiration here."—ANN GLEIG, author of American Dharma

"a must-read . . . especially for women seeking to challenge the status quo of religious orthodoxy."—ROGER HOUSDEN, author of Ten Poems to Change Your Life series