52 Lists for Togetherness: Journaling Inspiration to Deepen Connections with Your Loved Ones (Diary)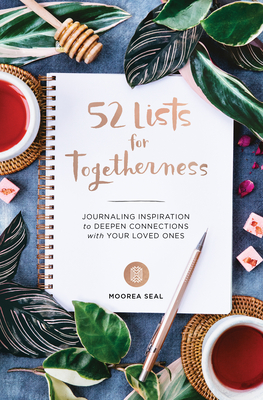 $16.95

Special Order—Subject to Availability
Description
---
Discover new ways to connect and love through the power of list making in this journal that fans of The 52 Lists Project and 52 Lists for Happiness will be sure to adore.
 
 
Learn more about who you are, how you see your loved ones, and how you can thrive together by creating 52 lists, one for every week of the year in this beautiful, undated hardback journal meant for celebrating and cherishing the many relationships that make up a community. It includes plenty of space to write your lists and challenges to help you take action and transform your relationships. Meant to be filled out solo, the journal can also be a great tool to connect with loved ones by sharing and comparing lists. Like the other 52 Lists journals, this keepsake journal comes in a luxurious package full of vibrant photography, lovely illustrations, metallic foil, and a ribbon.
About the Author
---
MOOREA SEAL is a Seattle-based retailer, designer, online curator, and author of the bestselling 52 Lists journal series, also known for her large following on Pinterest and mental health advocacy. With a desire to empower women and girls of all ages, she promotes a lifestyle of "Doing Good while Doing Great." Through her fashion and lifestyle brand, also named Moorea Seal, she gives back 7 percent of all proceeds to nonprofits.
Praise For…
---
"Journaling can be a divisive topic. Give some people the blank page and they can pour out their innermost thoughts and dreams freely and easily. For others, beautifully bound journals collect dust, eventually joining the journal graveyard in the far reaches of the basement. Enter Moorea Seal's new book, 52 Lists for Togetherness: Journaling Inspiration to Deepen Connections with Your Loved Ones, which is filled with beautiful prompts that offer endless thought-starters for meaningful writing that flows naturally."
--Yoga Journal

I was so excited to try out this journal because it gives prompts and makes it easy to record memories about different topics in this current stage of our life. Easy is GOOD...The pages are filled with a huge variety of different prompts and topics, some more lighthearted and some more serious...It's a great gift idea (going to any weddings soon?) and I hope you enjoy it as much as we are."
--A Beautiful Mess

"Moorea's new book... is made up of fun and revealing lists you can do alone or together. One prompt: "List the ways you have helped your loved ones through hard times." And for Moorea, it's about engaging IRL with the people you want to get to know better — hopefully fostering connection and healing in divisive times."
--The Evergrey

"Local boutique owner Moorea Seal's latest keepsake journal follows her bestselling "The 52 Lists Project." Writing prompts and fun, interactive activities encourage self-discovery and connection between loved ones."
--The Seatttle Times

"This writing journal--the third in Seal's "list" series--comes with journaling exercises and "inspiration" that emphaize the importance of building and nurturing bonds with your loved ones. It's all set among tasteful art, illustrations and photography that have become the signature of this Seattle design maven."
--Seattle magazine


"The word "list" often conjures the idea of something mundane, like a to-do list or grocery list. Multiple books by Moorea Seal, including The 52 Lists Project, 52 Lists for Happiness, and now 52 Lists for Togetherness, prove that lists can be used as a tool for growth and connection. This latest release helps people reconnect with loved ones — romantic partners, family members, friends both new and old — in creative and mindful ways, reminding us that no matter how well we know a person, it is always possible to deepen our relationship with him or her."--South Sound magazine