The Big Book of Senior Moments: Humorous Jokes and Anecdotes as a Reminder That We All Forget (Hardcover)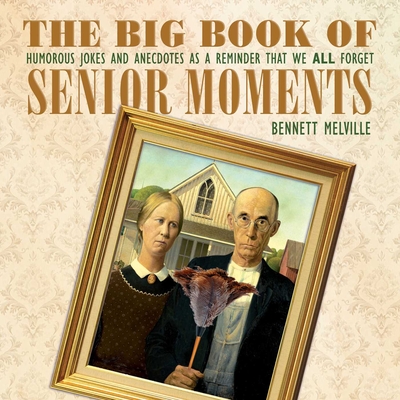 $19.99
Special Order—Subject to Availability
Description
---
Old age isn't for wimps, nor is it for those without a sense of humor. The Big Book of Senior Moments is chock full of those small blunders, momentary lapses, and misplaced keys that happen to all of us. Humor might not help you remember your cat's name, but it will certainly make you feel less alone!

Did you know that Albert Einstein once searched frantically for his misplaced train ticket because he couldn't remember where he was going? Or that Marilyn Monroe forgot the same line through 52 takes during the filming of Some Like it Hot? Can you believe that Marlon Brando had to have his lines written on another actor's forehead so he could get through a scene? If you have done something like this, don't despair, for you are among other greats like Lincoln, Beethoven, Newton, Toscanini, and a whole assortment of presidents, poets, philosophers, popes, and Nobel Prize–winners. The Big Book of Senior Moments will be sure to bring a smile to friends and family alike. Don't forget to pick up your copy today!
About the Author
---
Bennett Melville is a humorist and self-proclaimed curmudgeon. He enjoys reading historical fiction, spending time with his wife and family, and of course, bocce ball on the beach. He splits his time between Marco Island, Florida, and Garden City, Long Island.