Dear Moon (Hardcover)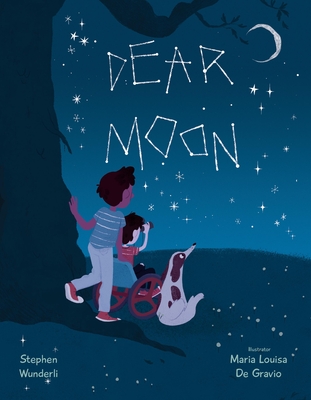 $16.99
In Stock—Click for Locations
Description
---
"We want to have a word with you!" Max shouts at the moon. "Face-to-face, man-to-Man in the Moon. We need you to stay where you are!"
Max and Ely are best friends, but each night the moon marks the passage of time, closer and closer to the day Ely will go to the hospital. But the determined friends have a plan: they'll build a rocket, launch to the moon, and keep it from moving. In this poignant story of grief and healing, Max learns that time will keep ticking and loss is inevitable, but memories last forever, and the ones we love will always be with us, certain as the moon will wax and wane.
About the Author
---
Stephen Wunderli is the author of six books for children and young adults. He believes adventure is always the best medicine and that curiosity is the best teacher.
Maria Luisa DiGravio is an Italian illustrator based in Rome who spends most of her time in her studio, telling stories through illustrations and words. When she's not working, you can find her on the sofa reading a book, outside in the woods, or traveling around the world.
Praise For…
---
"Tender, loving, and sad."
-Kirkus Reviews

"This is a beautiful, poignant story about friendship, adventure, loss, grief, and acceptance. Author Stephen Wunderli does a brilliant job addressing a difficult subject in a thoughtful, unique way that will touch the hearts of young children and adults alike. Maria Luisa Di Gravio's illustrations bring the text alive with their detail and subtle but darkened hues. The plethora of emotions this masterful story evokes are palpable, ranging from joy to sadness and then on to acceptance."
-San Francisco Book Review

"Dear Moon provides parents and grandparents the opportunity to talk to children about grief, friendship, and love that lasts forever. It is the conversation starter to comfort and healing."
—Spencer Larkin, COO of Larkin Mortuaries