The Digital Decluttering Workbook: How to Succeed with Digital Minimalism, Defeat Smartphone Addiction, Detox Social Media, and Organize Your Online L (Hardcover)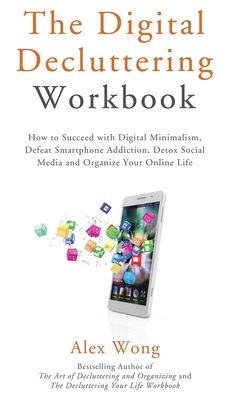 $24.99

Not On Our Shelves—Ships in 1-5 Days
Description
---
Unlock the secret to digital decluttering and begin revolutionizing your productivity
Do you want to discover how you can become more productive, stop wasting time on social media, and manage your online life? Are you interested in learning how decluttering and organizing can help you break free from the digital world? Or do you want to eliminate distractions so you can spend more time getting things done? Then this book is for you
The internet offers us a wealth of incredible opportunities for being more productive and succeeding with our goals - but far too many of us find ourselves wasting our time away and becoming dissatisfied with our lives. Constant online distractions, addictive technology, and the allure of the entire web being just a few clicks away can create a constant nagging voice which pulls us away from our goals while feeding into feelings of anxiety and depression. So how can you strike a balance between the benefits of the online world without letting yourself be carried away by social media addiction?
Written by best-selling author and 6-figure entrepreneur Alex Wong, inside this brilliant guide, he reveals his top digital minimalism tips, along with how you can start making your online life work for you. Combining practical decluttering tips with an honest look at how to clean up your computer, emails and social media, you'll also uncover a powerful 30-day digital detox designed to reset your mind and help you break up with harmful habits which are hurting your productivity.
Here's just a little of what you'll find inside:
- The BIG Problem With Social Media, The Internet, and Silicon Valley
- Scientifically-Proven Ways The Online World Can Hurt Our Focus and Concentration
- Practical Strategies For Cleaning The Clutter From Your Computer
- How To Optimize Your Device and Streamline Your Digital Experience
- Tips and Tricks For Organizing Your Emails
- Why Social Media Sites Are Designed To Be Addictive (Along With The BEST Ways To Overcome Smartphone Addiction)
- A Powerful 30-Day Digital Detox For a More Focused Life
- 30+ Ingenious and Creative Things To Do Instead of Social Media
- And So Much More
With actionable decluttering advice which you can begin implementing the moment you put this book down, as well as handy apps to help you manage your screen time and stop getting hooked by social media, the Digital Decluttering Workbook is your all-in-one guide to maximizing your productivity and making the most of this amazing tool.
So, are you ready to declutter your social media and online life? Get started now