Amazing Evolution: The Journey of Life (Hardcover)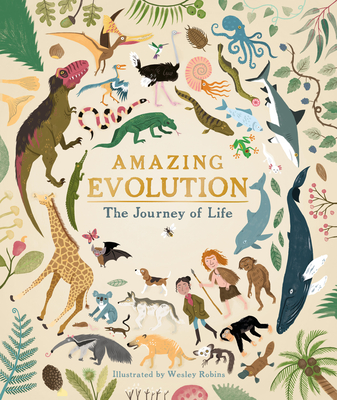 $22.99
In Stock—Click for Locations
About the Author
---
Anna Claybourne is a widely published children's non-fiction writer, and the author of Where's Will? (Ivy Kids, 2015). She lives in Edinburgh, Scotland, with her two children.
Wesley Robins is an illustrator and designer, based in London, England. He is the winner of the Macmillan Prize for Children's Book Illustration. Wesley has illustrated numerous books for Ivy Kids, including Great Art in 30 Seconds (2017) and Secrets of Animal Camouflage (2016).
Praise For…
---
"I love books like this that are able to make what can be quite complex scientific ideas and theories accessible (and fun!) to young children."
- Toppsta
—
-
"A thoughtfully presented and engagingly written piece of non-fiction on such a huge topic."
- Picture Books Blogger
—
-
"Essential for schools learning about evolution, extinction, fossils, Darwin, Anning & Wallace!"
- The Reader Teacher
—
-
"As entertaining as it is informative, "Amazing Evolution: The Journey of Life" is unreservedly recommended for family, school, and community library Science & Evolution collections."
- Midwest Book Review
—
-
"Packed with information about some of the world's greatest explorers."
- Michelle, The Book Report
—
-