The Art of Mindful Reading: Embracing the Wisdom of Words (Mindfulness series) (Hardcover)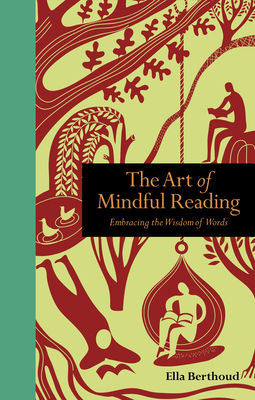 Description
---
"The beautiful new book from Salon bibliotherapist Ella Berthoud ... explores how reading mindfully enhances our lives and asks, if reading is our daily nourishment, how best should it be consumed?" - Damian Barr

The Art of Mindful Reading embraces the joy of absorbing words on a page, encouraging a state of mind as deeply therapeutic and vital to our wellbeing as breathing.

The healing power of reading has been renowned since Aristotle; focus, flow and enlightenment can all be discovered through this universal act. Bibliotherapist Ella Berthoud explores how reading mindfully can shape the person you are, teach empathy with others and give you your moral backbone. Through meditative exercises, engaging anecdote and expert insight, discover the enriching potential of reading for mindfulness. Learn: 

• How to use reading to develop your emotional intelligence
• Different ways of reading
• Reading like a child – without preconceptions and in exciting places
• The benefits of reading with others 
• How to find yourself in a book – remembering what you have read
 
If you like this, you might also be interested in Writer's Creative Workbook, Mindful Thoughts for Walkers and Mindfulness & the Art of Drawing. . .
About the Author
---
Ella Berthoud is a bibliotherapist at the international School of Life, prescribing literary cures to readers everywhere. She is the author of The Art of Mindful Reading,The Novel Cure and The Story Cure, and read English Literature at Cambridge University. Ella regularly gives talks on reading ailments and mindful reading at bookstores and festivals across the UK. She lives with her family in West Sussex, England.
Praise For…
---
"Bibliophiles will love Berthoud's eclectic, inspired suggestions for deeper reading."
- Publisher's Weekly
—
-
"In her new book, Ella Berthoud explains why we could all benefit from paying more attention to what, and how, we're reading."
- Idler
—
-
A Best Spiritual Book of the Year
- Spirituality & Practice
—
-
A delightful celebration of reading with plenty of practices for expanding and enriching the experience.
- Spirituality & Practice
—
-