Atar Gull (Hardcover)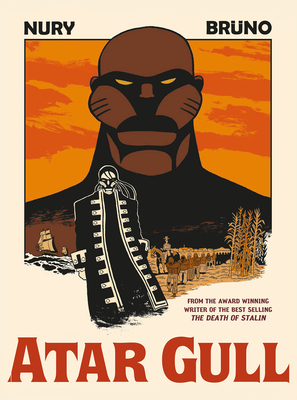 $24.99
Special Order—Subject to Availability
Description
---
A man forced into slavery seeks cold-blooded revenge on those who took his freedom. From Fabien Nury, the award winning writer of the best-selling The Death of Stalin and Tyler Cross.

Atar Gull is a Prince among his tribe, until he finds himself in chains, being exported to Jamaica like livestock, at the hands of the ruthless Captain Brulart. But Atar Gull is a patient man, and seeing his kin murdered around him is not enough to prevent him from biding his time. When that time does eventually come, revenge is bloody and thorough.
About the Author
---
FABIEN NURY is an award winning French comics writer, with early successes such as Once Upon a Time in France, for which he received the 2011 prize for best series at the Angouleme International Comics Festival. He is most recently known for the original graphic novels The Death of Stalin and Death to the Tsar.

BRÜNO is an award winning, critically acclaimed artist and frequent collaborator of Fabien Nury.
Praise For…
---
"Fans of Nury's other works, stories of slave revolts, and seeing the comeuppance of reviled slave owners will find this an outstanding and emotional graphic novel." 
-Library Journal Starred Review

"A chilling yet inherently riveting and superbly crafted graphic novel...not for the squeamish or faint of heart." - Midwest Book Review

"Explores the mercilessness and brutality of slavery while focusing on the complex humanity of those claimed by slaveholders." - Barnes & Noble Sci Fi Blog

"Sometimes thunder and fury isn't the best way to emphasise horror and atrocity ... Atar Gull is stunning. 5 out of 5" - Slings And Arrows

"It's a stunning story, one that will sicken you as it thrills. Nury doesn't shy away from the horror of the slave trade but builds a compelling story of humanity around its sickening, depraved madness ... What we have here, then, is a masterpiece. A beautiful horror story, a fantasy anchored in our brutal, disgraceful history, and a piece of art created by two practitioners at the top of their game. Enjoy." - Grovel