Sirtfood Diet Cookbook: 200 Delicious and Healthy Sirtfood Recipes to Rapidly Lose Weight, Burn Fat, And Activate Your Skinny Gene (Hardcover)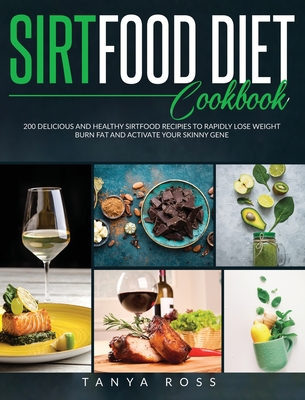 $35.95
Not On Our Shelves—Ships in 1-5 Days
Description
---
Do you want to lose weight without exercising or working out daily? If your answer is yes, then this is the right book for you
The Sirtfood diet has become the 'new' prevailing fashion of 2016 and has picked up acknowledgment from famous people like TV gourmet expert Lorraine Pascale. It is broadly known for permitting you to have dim chocolate and red wine and still get in shape, sounds somewhat insane, right? If you're similar to me and possess a solid incredulity about the most recent diet slants; we should right away, discover more and consider: The Pros and Cons of the Sirtfood Diet
"Sirtfood" seems like something created by outsiders, brought to earth for human utilization with expectations of picking up mind control and global control. In reality, sirtfoods are just nourishments high in sirtuins. Uh, come back once more? Sirtuins are a sort of protein that reviews on natural product flies and mice have demonstrated control digestion, increment bulk, and consume fat.
The 'sirt nourishments' as far as anyone knows, enact the sirtuin in your body, which is a sort of protein that assists with shielding your cells from kicking the bucket and creating sicknesses, just as managing your digestion. You can have moderate measures of dull chocolate and wine all the time without feeling remorseful It contains nourishments that are commonly sound and nutritious, for example, buckwheat, blueberries, pecans and green tea. It's intended to be long haul and it keeps you sound for life just as hindering the maturing procedure.
This book covers:
What Is Sirtfood Diet?
How to Follow a Sirtfood Diet?
Benefits of Sirtfoods.
Breakfast Choices Recipes.
Snack Recipes.
Quick Fixes Recipes.
Super Salads Recipes.
Soups and Broths Recipes.
Speedy Suppers Recipes.
Main Meals Recipe.
Desserts Recipes.
And much more
At its center, the way to getting more fit is quite straightforward: Create a calorie shortage either by expanding your calorie consume workouts or diminishing your caloric admission. Yet, imagine a scenario in which you could avoid the dieting and rather enact a "thin quality" without the requirement for exceptional calorie limitation. This is the reason of The Sirtfood Diet, composed by sustenance specialists Aidan Goggins and Glen Matten. The best approach to do it, they contend, is sirtfoods.
Sirtfoods are wealthy in supplements that actuate a supposed "thin quality" called sirtuin. According to Goggins and Matten, the "thin quality" is initiated when a lack of vitality is made after you limit calories. Sirtuins got intriguing to the nourishment world in 2003 when specialists found that resveratrol, a compound found in red wine, had a similar impact on life length as calorie limitation yet it was accomplished without lessening admission. (Discover the complete truth about wine and its medical advantages.)
The book contains a rundown of 200 delicious sirtfood recipes that are high in sirtuins, which sounds more like a drifting nourishment list than another, advanced diet.
What are you waiting for? Buy it now