Manipulation Techniques: How to understand and influence people using Mind Control, Subliminal Persuasion, Self Discipline, NLP and Body Langua (Paperback)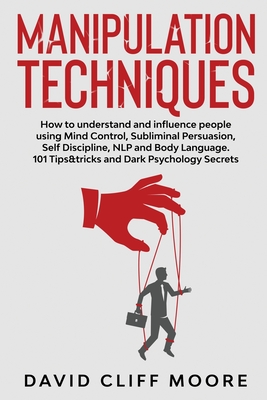 $21.95

Special Order—Subject to Availability
Description
---
Do you want to achieve more from your life and your relationships? Do you want to know how to understand and influence people with Subliminal Persuasion, NLP and Body Language?
If you are looking for techniques that can attract and manipulate human behavior, if you want to use and influence people with proven psychological techniques... then keep reading.
This is not only a scientific book that explains what is Neuro-Linguistic Programming, Dark Psychology, Manipulation and other important topics, but also is a step-by-step guide that teaches you to be lively, optimistic and successful in your career and within your relationships. It's a scientific process that hones your interpersonal social skills to become a natural leader in your social circle.
In this book you will discover:
- What is NLP and how to use it
- What is Dark Psychology
- Mind Control Techniques
- How To influence people
- How to identify and counter a Manipulation
- Tip and tricks
...And so much more
If you want to know more about how to manage and influence people, becoming a leader in your social environment and reaching your life-time goals, then...
Scroll UP and click the BUY NOW button