How To Improve Your Mind: 3 Books in 1: Accelerated Learning, Memory Improvement and Speed Reading to Learn, Memorize and Read Faster, Map Your (Hardcover)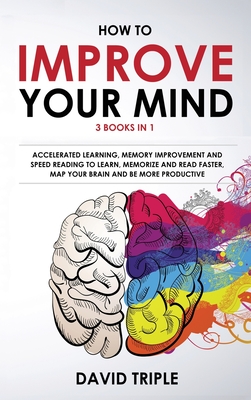 $35.95
Special Order—Subject to Availability
Description
---
Is the world full of so many wonders that you are finding it hard to study them all?
Do you want to be able to learn faster than your current rate?
This is the perfect book for you to change the way you absorb information forever
Most of us enjoy learning new things. We all have some subject that we take pleasure in, or a skill that we are interested in developing and enhancing. But learning anything new, or improving on what we already know, can be a time consuming business, and time is something that many of us have in short supply.
You can change that with this great book bundle, How To Improve Your Mind, which comprises three stunning titles, Accelerated Learning, Mind Maps and Speed Reading, with which you can begin to change your speed of learning across a wide variety of subjects, with chapters that cover:
How the brain learns and understanding your mind
An introduction to mind mapping


Introduction about visual learning methods and Tony Buzan, the father of modern mind mapping
How to generate a mind map. Examples that explain about mind map as a tool in the workplace for giving presentations, training new employees, and listening in meetings
Using mind maps in everyday life


Develop a perfect, computer-like memory in just 5 minutes a day


Speed reeading mindset and habits to develop
Learning to use your eyes, uncover the factors you need to read for speed
The critical steps to become adept at speed reading
Memory enhancement and brain exercises


Learn the difference between the art of skimming and scanning
The history of accelerated learning and how it came to be the skill we know today
Step-by-step easy-to-understand methods for turning even the worst memory into a powerful one


And much more...
By increasing the speed in which you learn you can improve many areas of your life, whether it is for pleasure or for work. These books offer you an in-depth examination of three amazing skills and show exactly how you could implement each one of them into your daily life.
This is NOT a study manual NOT a textbook There are no lectures - not a single "blue-sky" or other strange theories to ponder over or memorize in this program
If you apply the strategies inside, inevitably - hour after hour - day after day - week after week - you will find yourself in command of ever-increasing powers of Rapid Learning, Vocabulary Building, Problem Solving, Clear-thinking, Friend-Making and much more
Simple and effective learning at a speed you would never have believed
What are you waiting for?