Overthinking: 2 Books in 1: The Ultimate Guide to Control Your Brain; How to Overcome and Control Overthinking, Excessive Procrastin (Paperback)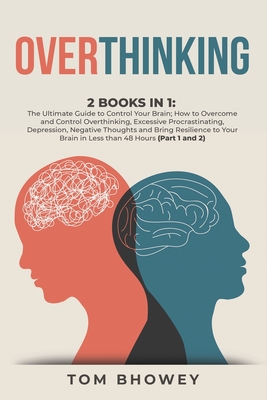 $39.99

Backordered
(This book cannot be returned.)
Description
---
55% off for bookstores Bundle paperback BW Only for a Limited Time Discounted Retail Price at $39.99 Instead of $47.99
Do you want to declutter your overthinker mind and achieve impossible success without procrastinating? Then read more
Your customers will be grateful to you for providing them this ultimate Overthinking solution book.
Does your mind occasionally make excuses and never let your body get active and get to work? Has the worst habit of the world i.e., overthinking, have had played a critical role in messing up a once-in-a-lifetime opportunity for you? Well, this book will help you dive into the key root cause of overthinking and enable you to take back control of your mind and never be unhappy again. This Overthinking book will give you key insights and guidelines from experts that will enable you to make decisions quick, faster, and more robust. This will also help you to stop getting depressed and never let a negative thought cross your mind. A huge list can be written here about the benefits you will get from the book, however, let's just give you a sneak peek into the content of the book.
What's inside the book?
- Overthinking Disorder - what is it?
- How to Stop Overthinking
- HOW TO SOLVE STRESS ISSUES
- Top ten Proven Emergency Stress-Stoppers
- Stress Management
- How to apply the four A's of stress management
- How to meditate like a calm Buddha
- POSITIVE THINKING, BIG THINKING, AND CLEAR-THINKING ROBUST TIPS
- PRACTICING POSITIVE THINKING DAILY
- PROBLEM RESOLUTION
- PROBLEM-SOLVING TECHNIQUES YOU NEVER KNEW
- THE ROUND-ROBIN GROUP ACTION TECHNIQUE
- HOW TO DECLUTTER YOUR MIND
- HOW TO BEGIN THINKING COMPLETELY, CLEARLY, AND RAPIDLY
- HOW TO BECOME MORE POSITIVE AND OPTIMISTIC WHILE BEING REALISTIC
- WHERE DO YOU GET NEGATIVE THOUGHTS?
- HOW TO FIND YOUR VOCATION AND A LOT, LOT MORE
Even if you are a complete overthinker and mess up everything with this bad habit, this book will help you break the norms and discover a new version of yourself
Buy It NOW and let your customers get addicted to this OVERTHINKING Book