Couple Therapy: Everything You Need To Know To Overcome Anxiety, Insecurity, Fear of Abandonment, Jealousy, and Attachment in a Relati (Hardcover)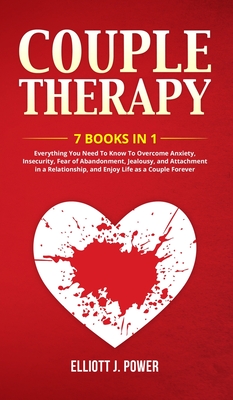 $47.95
Special Order—Subject to Availability
Description
---
★ 55% OFF for Bookstores ★Does your relationship suffer from jealousy issues?Is conflict ever-present and leading to insecurity?Do you fear abandonment and worry that this is undermining your relationship?
If the answer is yes...keep listening....
Every relationship has moments when it faces problems. For many they are fleeting and are solved with patience and a willingness to cooperate with one another in a positive way. But often the problems are more serious and harder to solve, becoming so deeply ingrained that they can appear to be insurmountable. When you are faced with such a situation, it can be easy to give up and move on, but there are ways to deal with things like jealousy and conflict that can save a relationship.
This boxset includes the most powerful collection of books that will help you improve every area of your personal and couple life. You will have the best practical strategies to apply right away to have more satisfying relationships and live your life with joy and serenity.
Included in this book collection are:
Anxiety in Relationship: The Essential guide to Overcome Anxiety, Jealousy and Negative Thinking. Heal Your Insecurity and Attachment to Establish Relationships Without Couple Conflicts.
Toxic Relationships: A Survival Guide to Overcome Jealousy, Negative Thinking and Heal Your Insecurity to Establish Relationships Without Couple Conflicts
Couple skills: How to Nurture Self-Love, Self-Appreciation and Self-Respect. Cure and Transform Jealousy, Insecurity and Attachment into Strengths for Communication in Love and Couple Well-Being
Emotional Intelligence for Couples: A Practical Guide to Learn How to Master Your Emotions, Reconnect with Your Partner, Grow Together and Strengthen Your Relationship.
Empath Healing: Improve Your Emotional Intelligence, Stop Negative Thinking and Master Your Emotions for Live a Happy Relationship
Communication in Relationships: How to Communicate About Serious Issues in a Relationship and Understanding the True Meaning of Perfect Couple
Narcissistic Abuse: A Self Emotional Guide to Understanding Narcissism and Healing After Hidden Psychological and Emotional Abuse
Disarm the Narcissist and Take Back Your Life
With its 7 amazing books, all in one place, it will help you through any difficult moment of your life.
There are several ways you can make your relationship last forever, but the easiest one is to stay focused and remember the reason why you decide to stay together.
If you are ready to start building long-lasting relationships and achieve the love you deserve, then get this book-set now.