Attachment Theory and Insecure in Love: How Anxious Attachment Can Make You Feel Jealous. Increase Stability, Learn to Form Secure Emotional Connectio (Paperback)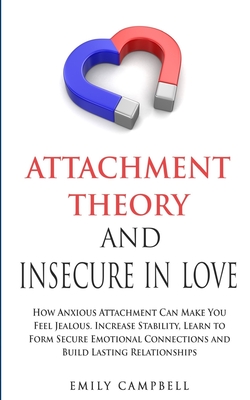 $27.95
Not On Our Shelves—Ships in 1-5 Days
Description
---
Are you someone who suffers from insecurity in relationships?
Do you find it difficult to maintain a successful romantic relationship?
Are you constantly worried that everything will end in heartbreak?
Attachment anxiety is usually experienced in relationships with significant people who are prominent in your life, including parents, friends or partners. It can stem from childhood experiences, such as neglect or emotional and physical abuse and can leave sufferers feeling nervous and stressed. This can have the knock-on effect of leading them to enter further unhealthy relationships, unless the problem is properly addressed.
Most people, throughout their lives, develop an inner dialogue with themselves. This can be of great advantage when used to evaluate important aspects of one's life, to make a decision or to take courage in the most difficult moments.
But when this dialogue leads to devaluing oneself, judging one's own value and identity, it generates negative emotional states of anxiety and depression. It becomes a real limit, sometimes insuperable
How many times do you have to ask yourself:
Do you love me enough?
And that's really the person for me?
What if he abandons me?
Are you cheating on me?
These are just a small part of the questions you probably ask yourself every day.
Inside this new book, you can start to redress the balance to build stronger relationships with those close to you, with chapters that cover:
- The basics of attachment theory
- Active strategies for healing
- Identify key symptoms of attachment difficulties and their inception
- Interventions that repair attachment traumas to heal stress, shame, and anxiety
- mind-blowingly simple ways to build trust
....And much more
If you think that you suffer from attachment anxiety, have trouble trusting people and need constant reassurance and affection from your partner, you must act now before it ruins your relationship and your life.
This Book provides you with actionable advice that really works and will improve your health and happiness quickly and effectively.
Do you want to know more?
Then Scroll up, click on "Buy now with 1-Click", and Get Your Copy Now