Trauma: 3 in 1: How to Overcome Stress, Depression & Worry. Mental Health, Anxiety in Relationships, Attachment Theory, Insecu (Hardcover)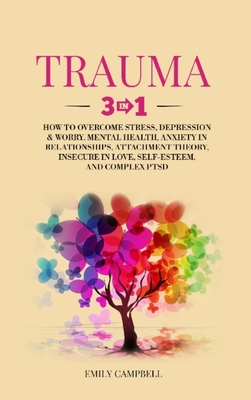 $45.90

Special Order—Subject to Availability
(This book cannot be returned.)
Description
---
This book includes: 3 Manuscripts
✔️ 1. TRAUMA TREATMENT AND MENTAL HEALTH
✔️ 2. ATTACHMENT THEORY AND INSECURE IN LOVE
✔️ 3. MENTAL HEALTH JOURNAL
Book 1: Trauma Treatment and Mental Health
In this book, Trauma Treatment and Mental Health, you will finally find new ways to tackle your trauma, with chapters that focus on:
How depression is defined
How you can avoid exacerbating the problem
A range of trauma treatment exercises
Trauma and the link to mental health
Understanding anxiety
Why you could be more prone to depression than others
Common mental health issues
Stages of cognitive-behavioral therapy
Book 2: Attachment Theory and Insecure in Love
Attachment anxiety is usually experienced in relationships with significant people who are prominent in your life, including parents, friends, or partners. It can stem from childhood experiences such as neglect or emotional and physical abuse and can leave sufferers feeling nervous and stressed. This can have the knock-on effect of leading them to enter further unhealthy relationships unless the problem is properly addressed.
Most people, throughout their lives, develop an inner dialogue with themselves. This can be of great advantage when used to evaluate important aspects of one's life to make a decision or to take courage in the most difficult moments.
But when this dialogue leads to devaluing oneself and judging one's own value and identity, it generates negative emotional states of anxiety and depression. It becomes a real limit, sometimes insuperable
How many times do you have to ask yourself:
Do you love me enough?
And that's really the person for me?
What if he abandons me?
Are you cheating on me?
These are just a small part of the questions you probably ask yourself every day. Inside this new book, you can start to redress the balance to build stronger relationships with those close to you, with chapters that cover:
The basics of attachment theory
Active strategies for healing
Ways to identify key symptoms of attachment difficulties and their inception
Interventions that repair attachment traumas to heal stress, shame, and anxiety
Mind-blowingly simple ways to build trust
And much more
Book 3: Mental Health Journal
Get ready to do something great for your mind and body.
Figure out what makes you tick with a mental health journal full of prompts that help you examine yourself, the people in your life, and how you relate to the world.
Mental health is important because it can help you to:
Cope with the stresses of life
Be physically healthy
Have good relationships
Make meaningful contributions to your community
Work productively
Realize your full potential
Emily Campbell will help you to identify your day-to-day stressors so that you can work on an effective plan to resolve the problem, reduce stress and anxiety, and improve your mental health.