Anxiety in Relationship: Couple therapy to Manage Anxiety, Jealousy, Insecurity, Attachment, Improve Communication, Overcome Conflicts and Buil (Hardcover)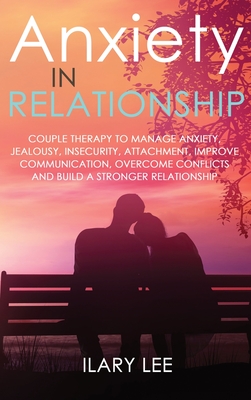 $37.97
Not On Our Shelves—Ships in 1-5 Days
Description
---
55% OFF ALL BOOCKSTORE NOW AT $37.97 INSTEAD OF $41.95 WANT TO EXERCISE AND ENERGIZE YOUR BODY, FEEL GREAT AND LOOK AWESOME? YOU CLIENTS NEVER STOP USING THIS AMAZING BOOK
Would you like to know what it takes to attain a lifelong relationship that inspires, motivates, and bring happiness to your life?Would you like to turn around your existing relationship and destroy the anger, stress, and anxiety you are currently dealing with?If you answered "Yes" to at least one of these questions, then keep reading....
Everyone thrives on the love, the safety of family, friends, and community but, if you are denied these basic comforts, you may develop intense fears of abandonment that can last well into adulthood.
Thanks to Anxiety in Relationship, you will be guided through a process, helping you undo negative thinking based on anxiety and promoting mental changes and actions.
You will learn how to:
- Understanding Anxiety
- Overcome Relationship Insecurity
- How Obsessive Attachment Impacts on the Couple
- Jealousy is Deleterious ...especially in Marriage.
- Fear of Abandonment
- How to Reduce High Couple Conflicts
- The Life Cycle od Relationships
- Advice for Couples
- and Many, Many More...
By recognizing these coping behaviors and understanding their cause, you will gain not only powerful insights into your own mind but also the minds of those around you.
By understanding the psychological factors at the root of your attachment anxiety, you will learn to cultivate secure, healthy relationships to last a lifetime.
If you are ready to stop with these painful relationships and start building lasting relationships and trust, this book can show you how to get the love you deserve
✔️ MY GIFT TO YOU INSIDE: Link to download my 120-page e-book "Mindfulness Based Stress and Anxiety Management Tools" for free
Buy it now and let your clients become addicted to this incredible book.