Couples Theraphy Workbook: How To Reconnect With Your Partner Through Honest Communication. Overcome The Anxiety In Relationship And Build A Stro (Hardcover)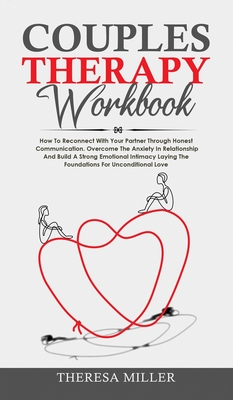 $35.07
Not On Our Shelves—Ships in 1-5 Days
Description
---
Are you constantly quarreling and fighting with your spouse, feel like you want out, but also don't want to let what you had to go down the drain and are desperately looking to fix your marriage and make your connection even stronger than before?
And are you looking for a guide that will help you uncover where you've been failing and what you can do to fix any problems in your marriage or long term relationship, without having to share your problems with anyone?
If you've answered YES, keep reading...
You Are About To Learn How You Can Turn The Anger, Resentment, Silent Treatment And Tension In Your Relationship Into Lasting Love Through Cultivating Honest Communication, Overcoming The Anxiety Within Your Relationship, And Creating A Strong Emotional Intimacy
All relationships needs nurturing, as without that, love, respect, emotional connection and intimacy will feel like a foreign concept
In fact, you don't have to wait until your marriage is on the rocks to start doing something about it.
By virtue that you are here, it is clear you appreciate the importance of working on your relationship continuously to keep the fire burning, reinject trust, and ultimately make your relationship grow and thrive.
Perhaps you are here looking for answers to all the questions going through your mind...
How do we reconnect and build the spark that we had early on in our relationship?
How do we deal with the anxieties that come so often and that threaten the peace and happiness in our relationship?
How do we handle conflicts to ensure they don't tear us apart?
What should you do more of and what should you reduce or stop doing to grow your relationship?
What about the sex - how do we ensure it never becomes a problem in our marriage?
If you have these and other related questions, you are in luck, as this book covers all that and much more to ensure you make things work between you, help you mend things in your relationship and restore love. This guide is carefully structured to target several difficulties that most couples face in marriage and how to solve these problems.
More precisely, you will learn:
How to connect emotionally, why it is vital in every marriage, and practical ways to boost it
Exactly how to build honest communication in your relationship, why it important to do so, and the effects of poor communication skills on the relationship
How to improve communication skills in a relationship and make your dialogues more honest an open
Appreciation and gratitude and their role in building a strong relationship
How to negotiate and sometimes compromise in your relationship and why it is important
How to handle your relationship with friends after marriage
The five love languages and how to express them
The role of sex in marriage
And much more...
If you put the knowledge you acquire from this book into action, your marriage will definitely blossom and grow into the life long and beautiful union that it was meant to be.
Even if it feels as if calling it quits is the only way out, this book will give you the hope you need to give your marriage another chance
So, what are you waiting for?
Make your marriage healthy and beautiful like it was the first time you met
Click
Buy Now With 1-Click
or
Buy Now
to get started